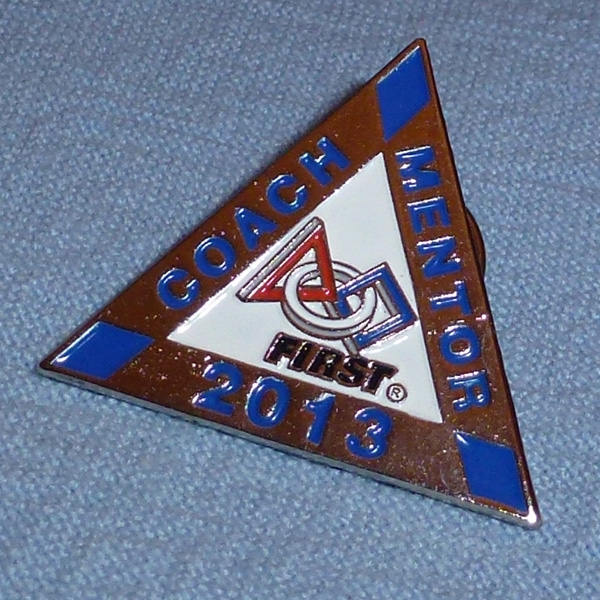 Watch the mail for your FRC Coach-Mentor appreciation pin and certificate.
The benefit of registering in TIMS with your team(s).
I got a pin, and a certificate last week. Unfortunately they were both for 2012, even though I already got the 2012 pin & certificate

. The only difference is that the new 2012 pin had a gold edge whereas the old 2012 pin had a silver edge.
I think that was for your FTC service. I received that last week and my 2013 pin Monday. Look for it soon.
Ah, awesome! Do I get one for FLL too? I mentor a team and head judge a 48-team event

Seriously, my lanyard for work is filled with FIRST pins.
My mom got her FLL Mentor Certificate but there was no pin this year. Maybe she, and I, will get a pin with our FRC Mentor Certificate.
I got mine yesterday. Both are hanging on my fork truck with all my medals and team pins of our partners (except 639 and 610) as well as my volunteer badges.
I was amused by the fact that the pin was shipped attached to a full-size sheet of thick paper. I guess there were a lot of people who threw their envelopes out last year without noticing the small plastic-wrapped pin hiding in the corner.
I hope I get one this year. I never got one for 2012.

Why is it a blue triangle, and not red? the past two years i got the white circle and blue square… so i figured this year = red triangle… but blue???
I just got mine! But my team's other mentor hasn't. Do you think it might be because she is listed as the alternate contact?