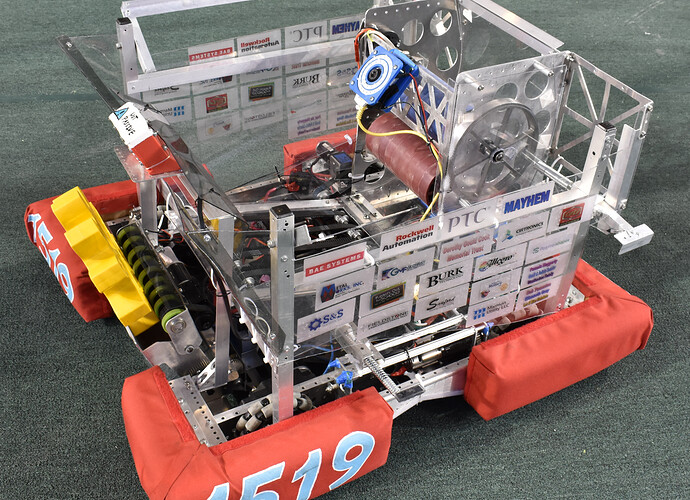 FRC Team 1519, Mechanical Mayhem, presents our 2017 robot, Blaise'n 40. Blaise'n 40 competed at NE WPI, NE Pine Tree, NE DCMP and has experienced several mid-season improvements. Blaise'n 40 is a low-configuration robot, weighing in at 103 pounds.
Drivetrain
Torque-actuated H-Drive powered by 6 CIMs
Primary direction: 4 CIMs geared 8.45:1 with 6" wheels for 13.3 fps (measured)
Strafing direction: 2 CIMs geared 14.40:1 with 4" wheels for 5.7 fps (adjusted, theoretical)
Encoders & gyro provide closed loop control of heading and speed (when beneficial)
Climber
Velcro acquisition of rope, packaged along bottom-left edge of robot
Stepped drum (~1" to 3") and guide in frame enables consistent acquisition and centering of rope
Powered by 775pro with 99:1 reduction (9:1 and 7:1 VersaPlanetary and 42-66 gear stage)
Gear System
Active floor pickup of gears
Active placement of gears onto peg
Vision targeting to align to peg in auto and in teleop (when beneficial)
Fuel Shooting System
2x wide shooter and loader, using 4" AM compliant wheels
Shooter powered by 1 775pro, geared for a total 3.22:1
Loader powered by 1 BAG motor, geared for a total 16:1
Shooter uses Armabot RS7 encoder on backshaft of 775pro
Shooter has inertia wheel with a rotational inertia of 24.5 in2lb
1x cameras for vision targeting
Fuel Tank
60 ball capacity

"Active floor" powered by BAG motor (28:1) in fuel tank floor provides fast, consistent feed
Ball Hopper Activators passively released to improve actuation of hoppers
Favorite Features
Torque-actuated H-drive cannot be friction-pinned
Auto-targeting for Boiler and Lift Peg
Fuel system pivots upward to allow unfettered access to drivetrain and electronics
Strategic use of 3D-printed parts to improve manufacturability of complex geometry (i.e., Talon SRX trees, camera mounts, window motor hubs)
Auto routines include, but are not limited to:
Hopper-auto, capable of scoring >30kpa in auto
Center gear + "10kpa" auto to place gear on center peg and shoot 10 pre-loaded fuel
Side gear + "10kpa" auto to place gear on side peg and shoot 10 pre-loaded fuel
#1519, Mechanical Mayhem, is looking forward to competing on the Tesla field at the St Louis Championship!
Team 1519 and Blaise'n 40 are proud to have the generous support of Rockwell Automation, Dorothy Gould Cook Memorial Trust, Cirtronics, BAE Systems, PTC, Altium, Nashua West Rotary Club, Cote, Gilchrist Metal Fabricating Co, Pamela Haggarty, the Weatherbee Family, Allegro Microsystems, Elizabeth Gray, Reach Out for Schools, Metal Works Inc, Bob Panneton, Vacation Station, Milford Rotary Club, Sanford Temperature Control, S&S Machine, Burk Technology, Fieldstone Land Consultants, Polymer Shapes, Geoff & Felicia Saucier, Lee & Ellen Mohnkern, Marmon Utility LLC, Excell Solutions, J.R. Poirier Tool & Machine, Nashua Cosmetic & Restorative Dentistry, James R Metcalf Orthodontic Associates of New England, Dave & Diane Hinckley, Hitchiner Manufacturing, Moin Orthodontics, Alexander Guida III, Amherst Physical Therapy, Children's Dental Center of NH, Frank & Colleen Blanda, Chappell Tractor, Maple Brook Family Dentistry, Ferra Enterprises, Linder Dental Associates, Manhattan East Hair Design Studio, Goffstown Chiropractic Care, Hannaford, and Devine Flooring.