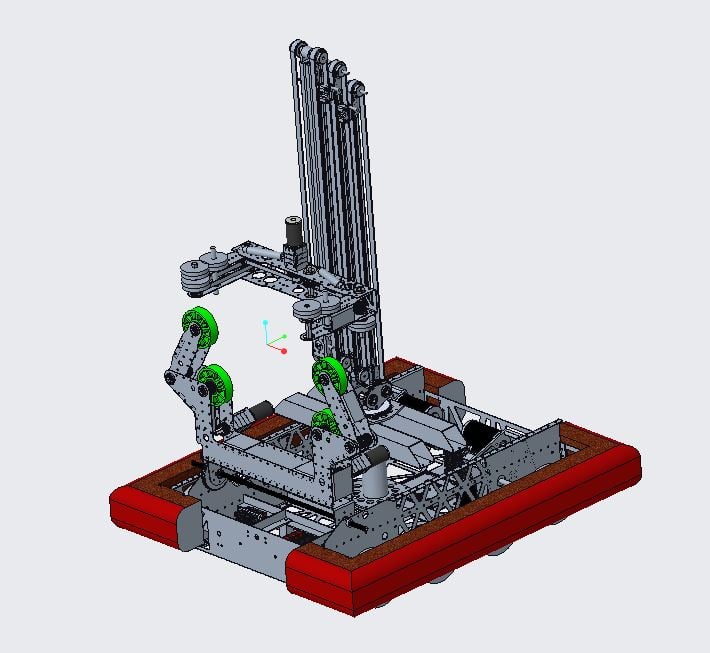 FRC Team 1519, Mechanical Mayhem, presents our 2018 robot, Anonymous Grandparent. So far this season, we competed at NE WPI in Week 1 and plan to compete at NE UNH in Week 5. We'll be continuing to work on upgrades during the upcoming weeks. As of Week 1, we competed with the following capabilities.
Drivetrain
8WD "tank drive" powered by 4 CIMs via AndyMark Sonic Shifters
Wheels / Tires: 6" Wagner Pneumatic Tires via belt drive
Low Gear: 17.29:1 overall ratio - 7.7 fps raw, 6.3 fps adjusted
High Gear: 6.76:1 overall ratio - 19.8 fps raw, 16.0 fps adjusted
Encoders & gyro provide closed loop control of heading and speed (when beneficial)
Intake:
Auto-aligning 4-wheel intake with pneumatically-adjustable "finger" tension
Powered by independent right / left BAG motors on VersaPlanetary 49:1 gearboxes
Mounted on pivoting arm, with preset heights for intake from floor, delivery to switch, handoff to elevator, delivery to exchange, and righting sideways power cubes
IR sensors to determine cube position and orientation within intake
Provides mounting for camera
Elevator Turret:
Turret provides 450 degrees of rotation for elevator turret
Powered by BAG motor via VersaPlanetary with 63:1 reduction
Capable of rotation rate of 280 degrees per second
Elevator:
3-stage single-pole elevator to minimize weight up high
capable of placing cubes on a surface 8' 6" off floor (to make a third layer on top of two existing layers of a raised scale basket)
counterbalanced via constant force springs
powered by a Vex 775pro via a VersaPlanetary 49:1 gearbox
floor to ceiling in less than 2 seconds
Elevator Carriage:
capable of ejecting cube via pneumatic "drop"
capable of ejecting cube via roller "spit out"
lightweight to allow robot driving while elevator fully raised
Autonomous Programs:
2-cube "scale and switch" autonomous
"SmartSwitch" autonomous
(Many more autonomous capabilities planned for later events)
Favorite Features:
separate intake and delivery mechanisms, with automated "handoff"
turreted elevator can place cubes on all sides of robot
drive gearboxes placed in rear of drive base to balance intake mechanism up front, for central CG
vision-processing to use machine learning for cube detection
multi-cube autonomous programs
Team 1519 is proud to have the generous support of Rockwell Automation, BAE Systems, Cirtronics, Altium, PTC, Allegro MicroSystems, Elizabeth Gray, an anonymous grandparent, UMass Lowell Francis College of Engineering, UMass Lowell Kennedy College of Sciences, Rotary Club of Nashua West, NVIDIA, Atlas Precision Metal Fabricators, Rapid Sheet Metal, Excell Solutions, Metal Works, Bob Panneton, J.R. Poirier Tool & Machine, S&S Machine, Burk Technology, Fieldstone Land Consultants, Marmon Utility, Reach Out For Schools, Chappell Tractor, Dovetail Dental Associates, Maple Brook Dentistry, DCU, Dell, Moin Orthodontics, Vulcan Spring, Manhattan East, Lindner Dental Associates, Gilchrist Metal Fabricating Co., and Mark Callahan.