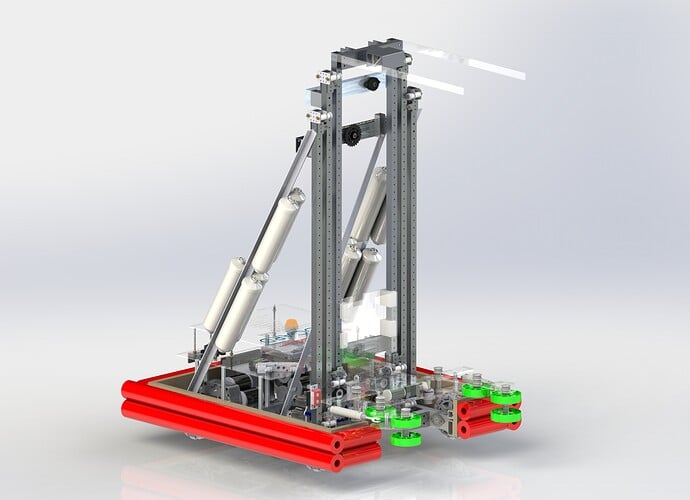 StuyPulse Team 694 is releasing the CADs for its robots from 2016 to 2018.
Our robot for the 2018 Power Up game is named Wildcard. After being semi-finalists at Central New York Regional, we changed our intake, combining the intake and placer. As Hudson Valley, we qualified for the Detroit Championships. The robot seeded 1st and won its first competition at our home regional, New York City, where we won 3 blue banners. In the Archimedes division, we were chosen into the 2nd alliance, but were eliminated during semi-finals. Realizing that the often breaking Versaplanetary gearboxes were a problem, we upgraded to a custom gearbox before IRI, were we were ranked 15th.
You may have heard of Wildcard's brother, Mildcard, which competed at BattleCry 19, and RCC, where we became finalists and winners, respectively.
Featuring:
4 6" Omni Wheels
4 4-⅞" Banebots Wheels
6 Mini CIM Shifting WCD (17.5fps / 5fps)
3 stage cascading lift powered by a 4 775pro custom gearbox (120" max height) (106.9:1 reduction)
Intake-Placer combo known as the Inquisitor (Powered by a BAG motor on a VersaPlanetary)
The GrabCAD link has both the robot in the Solidworks 2018 and STEP file types: https://grabcad.com/library/stuypulse-frc-694-2018-cad-wildcard-1
If you have any questions, feel free to email us at info@stuypulse.com
www.stuypulse.com
www.facebook.com/stuypulse
www.youtube.com/channel/UCDJr7RUmFfHAXjDg7jaCP5g
twitter.com/stuypulserobots