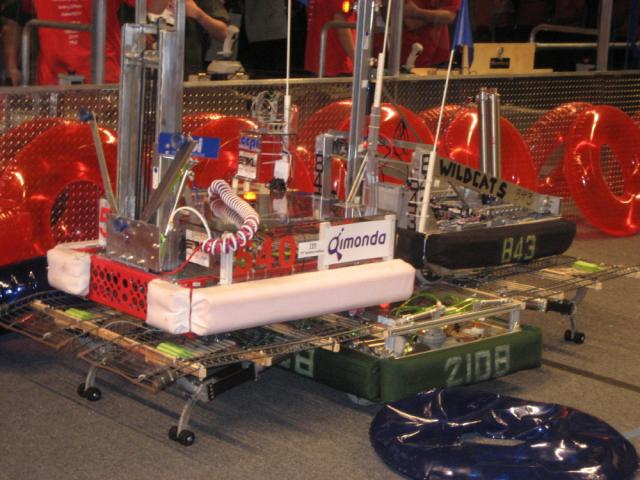 2108 lifting 540 and 843.
congrats on your rookie regional win, and one of the more consistent ramp bots there.
When we first made our robot we had a plunger in the middle to try to make it easier for turning. We were 10 pounds over so we took the plunger out. Our turning isn't bad. Our pushing power is really crazy though. As you or may not have seen, we can push about 2 robots in a row.
that is a sweet picture… those ramps look sweet, and look like they work very well. They also look very light. Very nice design, and congrats on your win.
When we were very tired at our late night meeting I thought about firing up the robot. Deploying the ramps and stretch out across them. They were completely flat when they lifted.
Thanks for the picture post. This is what I wanted to see at the competition but never did. You guys just had to wait for me to leave on that business trip to show them what the bot could really do huh? Does this mean I have to leave the Championship competition early too?
By the way, who has Zippy Junior? (The plush turtle I picked up from the museum shop.)
Lee - Turtle Care Giver
This robot will see you at Atlanta. Watch out for the Turtle. Behold the turtle. He makes progress only when he sticks
his neck out.