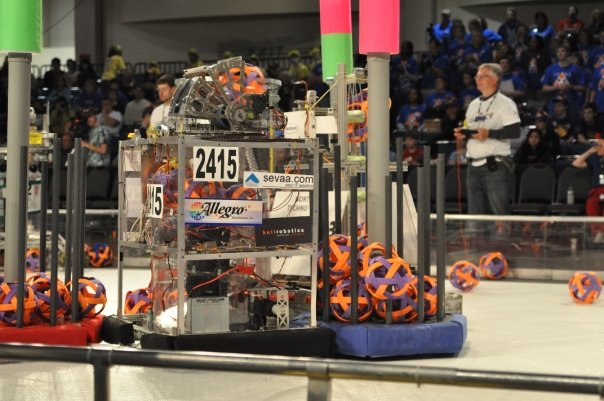 Here we are shooting/dumping at the peachtree regional, about half way through our score. Since we never put up a pic of our robot yet this year, a few details.
– 4WD with effective traction to help with pinning/scoring
–Screw system that holds ~20 max, although we have never had this many in a match
– Ball travels from bottom to top in about 4 seconds
– Turreted shooter that is maily used for close range at this time
– Shoots about 3-4 balls per second
– Effective empty cell delivery, usually we carry 2 per match, in the first 30 seconds
Thanks to 2655 and 832 for an amazing run at Peachtree this season. Thanks to 1771 and 21 for an amazing run at Palmetto this season, see you all at championships. Maybe at least some of us can team up again there.
Rick