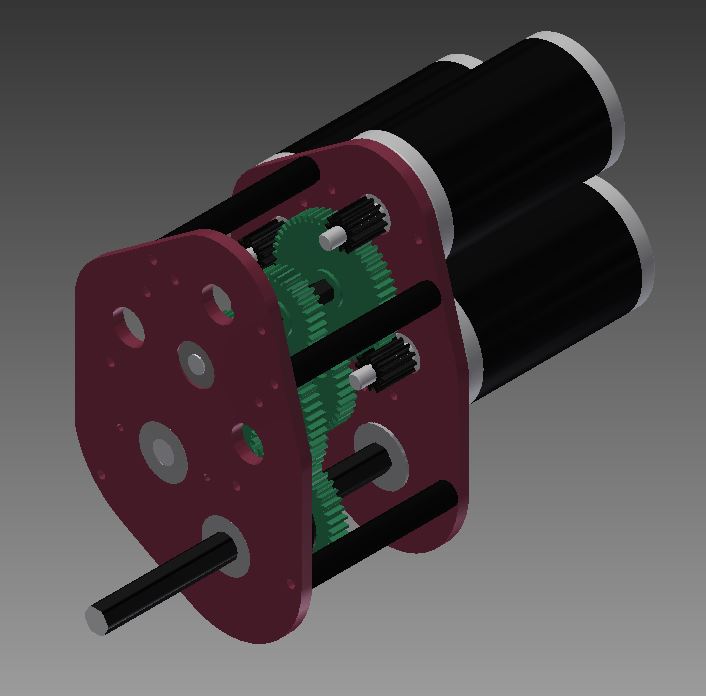 Here is my first attempt at a WCD, done using Inventor Professional 2014 Student Edition.
Please let me know what y'all think, I'd love the input.
Specs:
Colson Performa 4 x 1.5 wheels
Dog Shifting 3 CIM Gearbox
High Gear: 15.35 ft/s
Low Gear: 6.14 ft/s
Direct Driven center wheel, 1/16th center drop
9mm HTD outer wheel drives
Hex and ThunderHex Power Transmission
3/4 Bore Pancake Cylinder Driven Shifter
Total Weight: Roughly 34 pounds before lightening
Gearbox Spec:
High Gear Reduction: 4.89:1
Low Gear Reduction: 12.22:1
Total Shifter Spread: 2.5x
Things Left To Do:
Revise and add lightening pattern
Add standoffs for bumpers (A man can still dream)
Outer wheel drive shaft
Bellypan?
Electronics Layout
Shaft spacers and Snap Ring Grooves
Designed as a CAD exercise warm-up for a CAD course this fall.