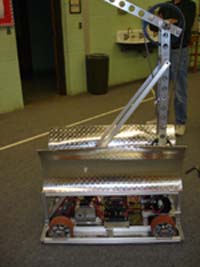 Could you explain the gaurds?
The opposite of mud flaps, they keep other robots out.
Wetzel
Exact, the guards flip up and lock to work on the bot and we put them down for battle. Just got the trick wheels on front and the bot steers like crazy and super fast. We are pretty excited to be done a week early for once and just let the kids drive.
looks cool! good job and good luck!