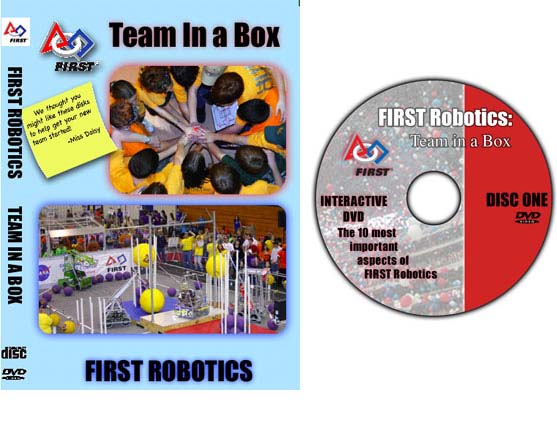 This is the cover art for our new "Team in a Box" DVD for rookie teams.
where do i get a copy?? looks like a very cool dvd here, should be interesting to see if i can obtain a copy…or maybe it is encoded already and i can get it through an FTP site or something??
Awesome!!
I've assigned myself a very similar project for this summer. Put all our "team tools" into a CD for hand out to rookies.
All our pre-season activities
Our team polices
Design tools
Organizations
And the "Hacksaw and Drill" design philosophy.
Etc… It seems like I have about 40 megs of stuff already…
I'll have to work on it after I rennovate one of the bed rooms in my new-to-me house.
As a future college student next year, I would love a copy to show around and help start a team.
Congrats on winning Chairmans again guys!
Copies of this DVD will be available in Atlanta.
The idea is to distribute, get feedback and keep improving it ever year. We want this to be a DVD with advice from the best teams and mentors of FIRST. So we want to keep interviewing teams that are famous for a particular activity.
We want this DVD to be as diverse as the teams of FIRST. Thanks for your replies and stop by our pit in Atlanta.
Al Ostrow
Team 341