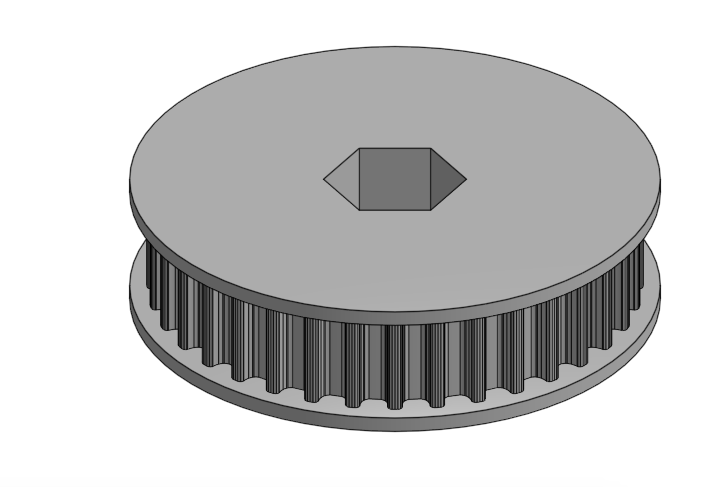 Here's a screenshot from my latest Model Generator! Sorry it has taken me so long to release this one, finals and work have been crazy recently. Regardless, here it is:
https://cad.onshape.com/documents/cb2b3f94f283af23dabe4c4f/w/56de8307db8f63e2bc44a4d4/e/bad8c65167a825e05168983b
This is a tool that can be used to make 3d printable pulleys with the same 5mm htd profile as the Vex Pulleys for 9mm wide belts. In the future/upon request I can experiment with other profile types/belt widths, however because of the sketchy way I did this one (my CAD students might kill me for some of the bad practices in this generator) it will be like starting from scratch.
With many teams using 3d printed pulleys more and more, especially in prototyping, I thought it would be cool to make a generator.
Three variables here:
#Teeth


Very simply the number of teeth

#belt_thickness


The thickness of the belt which sets how far up the flange goes. I made this a variable cause I was not sure, maybe someone can measure an actual belt (the default I stole from SDPSI) and I can adjust if its different.

#Hex


Due to the differences in 3d printers, even across the same model in the 1836 shop, often times making something to be .5" hex doesn't always make it .5" Hex. For that reason I made it a variable, and it can be adjusted after a bit of testing to see what works best.
I can assure you that the tooth profile used in this generator is identical to the one vex has in their CAD's, simply because I copy pasted the tooth profile from their CAD (and tested with other pulleys to confirm).
As always, I welcome all comments/feedback/suggestions, and happy CAD generating!
-Marcus