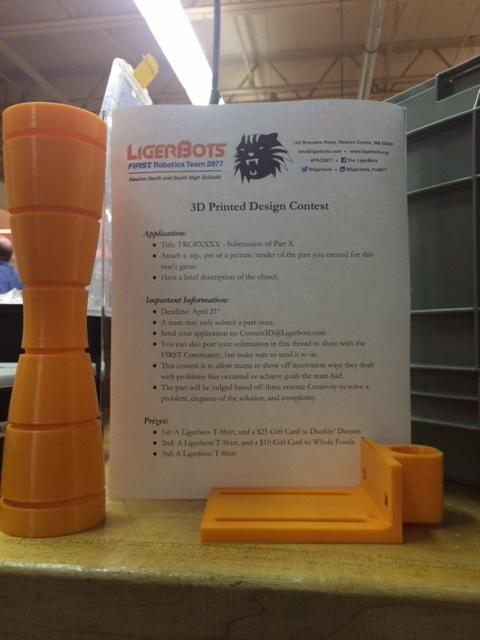 3D Printed Design Contest
Application:
Title: FRC#XXXX - Submission of Part X
Attach a .stp, .prt or a picture/render of the part you created for any FRC game.
Have a brief description of the object.
Important Information:
Deadline: April 21st. — EXTENDED TO APRIL 30th ------
Send your application to: Contest3D@Ligerbots.com
You can also post your submission in this thread to share with the FIRST Community, but make sure to send it to us.
This contest is to allow teams to show off innovative ways they dealt with problems that occurred or achieved goals the team had.
The part will be judged based off three criteria: Creativity to solve a problem, elegance of the solution, and complexity.
(For complexity I mean the complexity of the task and/or the amount of different ways it can be used. The part could be able to complete multiple tasks - i.e, two birds with one stone.)
Prizes:
1st: A Ligerbots T-Shirt, and a $25 Gift Card to Dunkin' Donuts.
2nd: A Ligerbots T-Shirt, and a $10 Gift Card to Whole Foods.
3rd: A Ligerbots T-Shirt
Add pictures/comments or questions below!