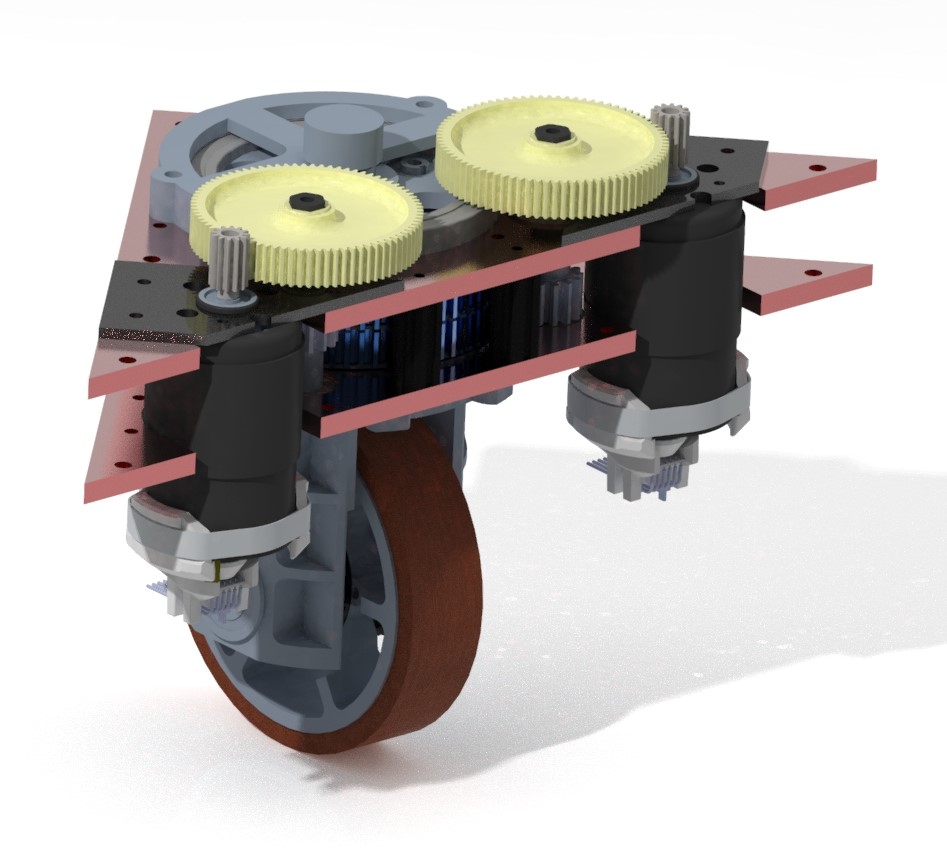 Offseason project to explore differential swerve ideas. Internal gears allow compact layout. Ratios provide for relatively stable open-loop control.
Open loop swerve control. :ahh:

Creo and STEP files
Open loop code
This was all made on the team's Tormach 1100 with a rotary indexer.
Currently the internals gears are 3D printed Onyx. We did successfully test using the Tormach as a gear shaper.
Python shaper example is here.
The design is based most heavily on nuclearnerd's. We tried using a spur gear differential with one set of bevel gears, but this setup was more stable.
Maybe not open loop, but we only used the module heading sensors not the individual motor encoders so far.
Have you driven with it under much load yet? I'm still curious to see what "steering ratio" differential swerves can get away with and still be relatively stable.
Looking at the fork parts - were those machined in-house? How long did it take you?
Shaping your own gears is so awesome. I wish I had your courage and cleverness to play such games with the Tormach.
The size is such that you could almost make your ring gears from this: https://www.mcmaster.com/2696n3
The forks look like they're dying to be 3D printed - maybe SLS or DMLS? In high volume, die cast maybe.
Amazing machining. How soon before the 2nd module is done and you throw them on a drive base?
Mother of machining Batman! What kind of workholding did you use?