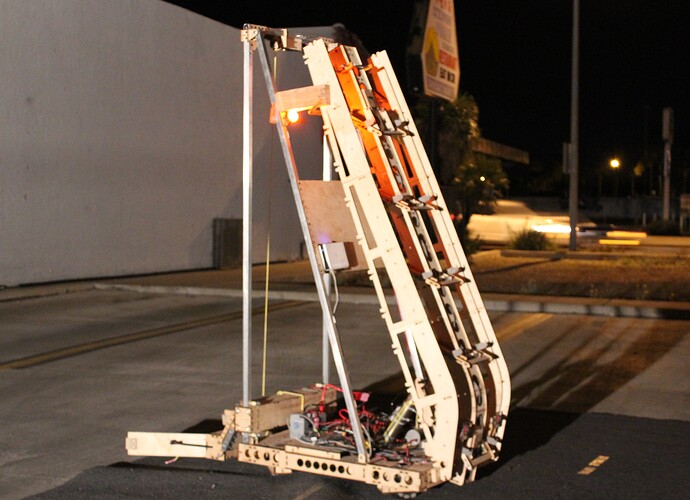 Bit Buckets, Team 4183 2015 robot
Stack Overflow
for Recycle Rush.
Chassis:
-Lightweight plywood construction
-Killough drive with 4" Vex Pro Omni Wheels geared for ~11fps robot speed driven by CIM motors
-Modular electronics board and drive pod mounting
-Can drive over scoring platform
-Closed-loop drive motor controls allow for precise maneuvering and autonomous driving
-Software includes utilities that read autonomous scripts and constants from a text file
-Total robot weight of ~105 lb.
Stacker:
-5 tote capacity
-Each tote is held by a separate carriage
-Stacker tilts forward with pneumatic cylinder to place stack
-Winch powered by MiniCIM in 50:1 VersaPlanetary
-Automated pickup using bumper switches to detect totes
-Automated positioning using encoder and reed switches
Can Grabber:
-Can place can on 4-tote stack
-Can pick up upright, inverted or fallen cans from floor or step
-Claw actuated by winch driven by window motor
-Elevator winch powered by BAG motor in 50:1 VersaPlanetary
We will be attending the Central Valley and Arizona East Regionals.
Most of our build season documentation is publicly available below. CAD will be posted later.
Engineering Journal Part One
Engineering Journal Part Two
Robot Software