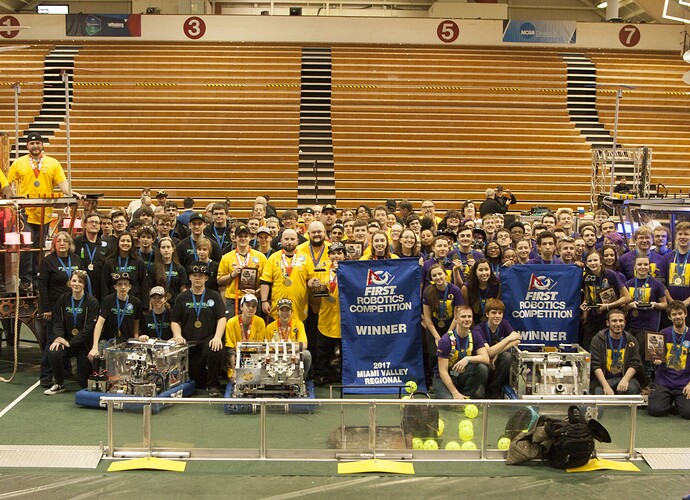 What a great weekend at Wittenberg University and the Miami Valley Regional!
Many thanks to Team 2451 PWNAGE and Team 4085 Technical Difficulties for partnering with us. Even though 2451 finished 27th in the rankings due to intermittent software bugs and other hiccups, we knew of their potential for delivering when it mattered most, and they did not disappoint. Their hopper auton scored us critical kPa throughout the elims giving us an edge, especially in the later rounds. Look for them to become an even greater force at later competitions. 4085 was also great, skillfully guiding their nimble mecanum drivetrain around the field to run gears, play blocking defense, and put up some climbs in critical moments. All in all, it was great to see the alliance working together so well throughout the gauntlet of NINE elimination matches. We did it the hard way, losing the first match at every stage of the elimination rounds and winning the next two, but we persevered together.
I'd like to congratulate all competitors at the event, especially the Finalist alliance of 3201, 2252, and 554 for making a great run and getting by several very potent alliances. Congrats especially to 3201 and 2252 for punching your tickets to St. Louis via the Wild Cards!
Congratulations to Team 3324 the MetroBots on a well-deserved Regional Chairman's Award!
Special props to Team 48 mentor Donnell Conner for a well-deserved and hard-earned Miami Valley Regional Woodie Flowers Finalist Award. Three Team 48 mentors have been so recognized.
A big thank you to the Miami Valley Regional planning staff and all event volunteers. The Queen City/Miami Valley folks always extract the most function out of their venues and available resources. It was a very well run event. Special thanks for keeping the teams in mind, listening to their concerns, and keeping any blar related to drooping springs to a minimum.
And finally a shout out to my team and all of the students, mentors, parents, and alumni who've kept it going for 20 years of FRC. This is our first regional win since 2012, and for many of us, this is going to be one of the more special memories of our two decades of existence. Hoping for many more great moments at Smoky Mountains, Seven Rivers, and now, the St. Louis Championship before the season is over!