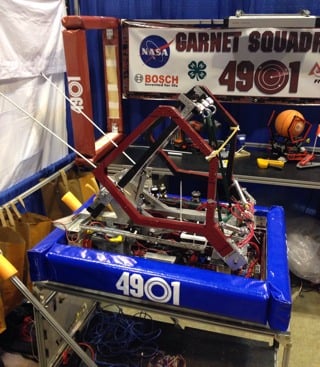 4901's robot Sandstorm I at the Championship event.
You can also see our Lego model Sandstorm 1/2 in the backround.
What material are you using for your bumpers, it looks much slicker than the recommended fabric. Did you notice if the (presumably) lower friction helped you in any way during matches? Was this why it was chosen?
This bumper type has been used by a few teams in South Carolina throughout the years. Most notably 1319 Flash, and last year's (2013) 4451. The material is used a lot in making durable banners. I have been told it is called "Herculon."
These bumpers definitely have lower friction than fabric bumpers. However, they gave a negligible advantage that I can account for (We were not trying to escape usually, we were the ones doing the pushing, tapping, etc.). Accounting for the possibility that we should have been at a defensive disadvantage, we played our defensive game just fine at Championship if not better than we had with normal bumpers at the regional level.
The reason we went to on to make these bumpers was that they look nice, and they were extremely easy to put together (you literally print them). We might use them again if we cannot manufacture normal fabric bumpers of the same quality next season.