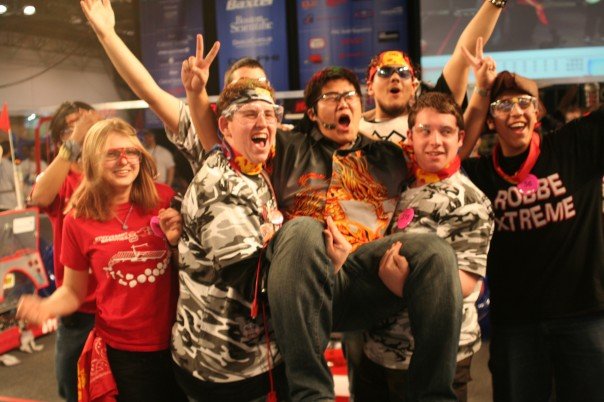 My alliance!
Robotic Plague + Stuypulse + Robbe Xtreme = Plaguepulse Xtreme posing with Wayne Penn.
That is one of the best pictures ever! Looks like you guys had a lot of fun at NY, hmm?
Thats a picture to put up on the FIRST web site
That is one of the best things about FIRST… Friends.
We became extremely close during the elimination matches, everyone hugging and screaming and high-fiving between every match, everyone helping everyone fix their robots. It was devastating at first when we lost the final match, but then I came upon something incredibly inspiring: after the pits emptied out some and the last teams were packing up to go, I saw 2274, a rookie team that had won the regional, gathered around their mentor. He was holding their trophy and saying, "This is what it is all about. Teamwork and cooperation. You guys did great." I turned around and I heard a big "Awww" behind me, so I turned back and all of the members of the team had gotten up and were giving their mentor a huge hug. It's wonderful to think of how close together we all grow, win or lose.
Yeah. After losing in the Semifinal rounds of the SVR, Team 675 gave several rounds of applause (to ourselves for coming even farther than before, to our alliance partners, and then to other teams (Congratulations 190 and your alliance partners)). It was cool.
And to think, There's another two years in store for me. I seriously can't wait for build season to come around again (after the Davis regional, of course! And possibly nationals, that'd be cool).