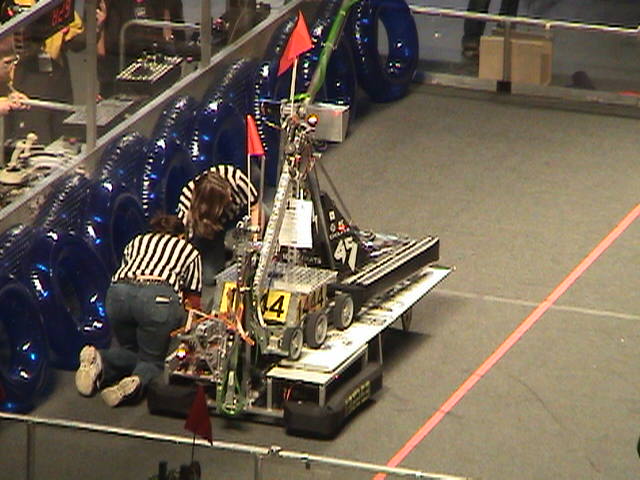 I wanted to yell over the wall, don't waste all your time measuring that's 60 points baby!
Nice work guys. Great work from Indiana!
I just watch one of the YouTube videos 1444 posted.
Hope to see you guys and Team 45 in two weeks.
Nice Job, Do either of you know whether there are any Indiana teams, other then us, heading to the cleveland regional?
Very Very nice job.

http://www.baesystemsfirst.org/regional/event_photos_2007/sat3/original/2007-0102-095.jpg
out of the 7 finals matches we played we did this 6 times with both bots. the only match we lost was the one match our ramp bot died

(BAE Granite State Regional)
That was the most amazing design, how all you had to do was drive forward, and the ramp popped up. We are glad that we chose you as our alliance partner. Thanks for all your hard work!
thats the way it should be
I sure hope we don't have to crawl on the floor to check the height. Else there's going to be a reset delay while we get me back up on my feet due to my poor knee.
In this game that would be worth 90