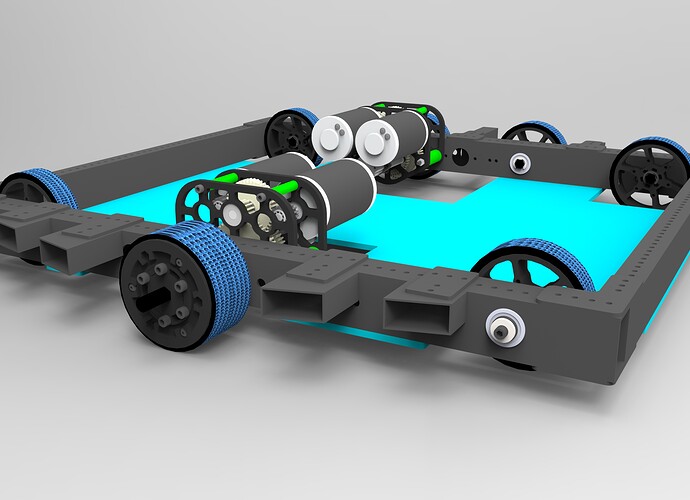 In the spirit of testing new designs, team 649 plans to build a hexagonal West Coast Drive over winter break. The design an concept is heavily inspired by 148's X-009 offseason DT and 971's 2014 octagonal drivetrain
It's a chain-in-tube system, something we want to test before buildseason starts, mainly to determine if the lack of maintainance and tensioners are worth the extra effort to assemble the chain beforehand. We are also switching to chain for the first time in team history, previously using exclusively belts for our drivetrains (last year we had some serious issues with belts skipping and stripping. Mostly our fault, but we'd like to have some leeway for us making mistakes).
The drivetrain is designed so that the side rails can handle a 6 wheel or 8 wheel configuration (we left out 148's 10 wheel config) without any additional machining. The render shows each configuration on each side of the drivetrain (we're not going to make an asymmetrical drive, don't worry)
With the assumption that next year's game will be defense heavy, we wanted to test the usefulness of a hexagonal drive to prevent t-bones, and if we can even make the strange bumper shape.
This drivetrain will be used to test code, possible custom gearboxes, drivers's practice, and prototypes when buildseason starts.
The CAD will be uploaded soon for anyone who wants a deeper look. Any input would be greatly appreciated