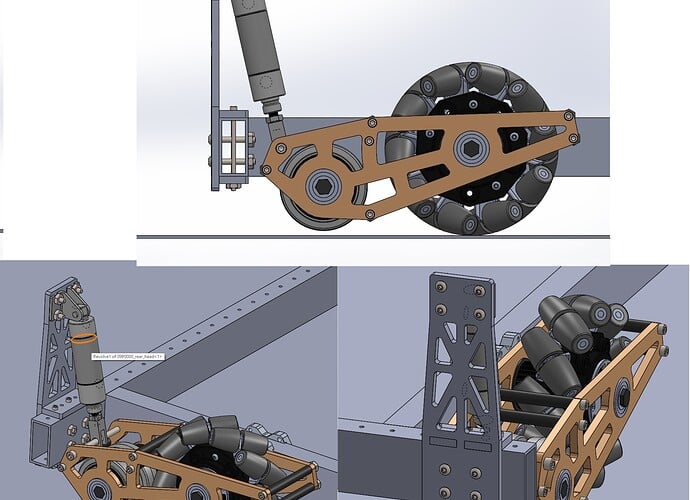 (Sorry this description didn't post until now)
Here's the next phase of the design I've been working on.
Thank again for all of the input on the previous iterations.
Explanation for the piston mount:
Several key things drove this design. I wanted to have as many components of the module be done off the same sheet of aluminum in one run of a CNC laser. Thus, eliminating the need for time on a mill or other piece of machinery.
This is why all the parts on the piston mount are either COTS, or 0.25" Aluminum.
I also want this system to be as "plug-and-play" as possible since my team doesn't have consistent access to a machine shop. Because of this, I added the aluminum support "tabs" above and below the chassis rail which act as a positioning aid for drilling and bolting the vertical part of the piston assembly to the chassis.
This should make using handtools more accurate and prevent slop that could mess with the module actuation. They obviously also add structural support, but aren't completely necessary.
I put the piston support on the front side of the chassis because it allows the overall assembly to be shorter. It's a 0.75" stroke and it makes contact with the ground somewhere around 0.25"-0.35" through the stroke.
A few other comments:
-The actual module hasn't changed much. I still need to add retaining clips to the axles.
-To answer a few of the comments I had previously, I want to stick with belts/pulleys (I'm probably never designing anything with chain again…) because of the ability to rely on COTS components and again, so we do as little machining as possible. Plus, I want the ease of using a hex to drive everything. I'm just not a big fan of using keyways to drive components.
-I don't plan on using the axles as added standoffs again because of the necessity of the hex to drive the components for the module.