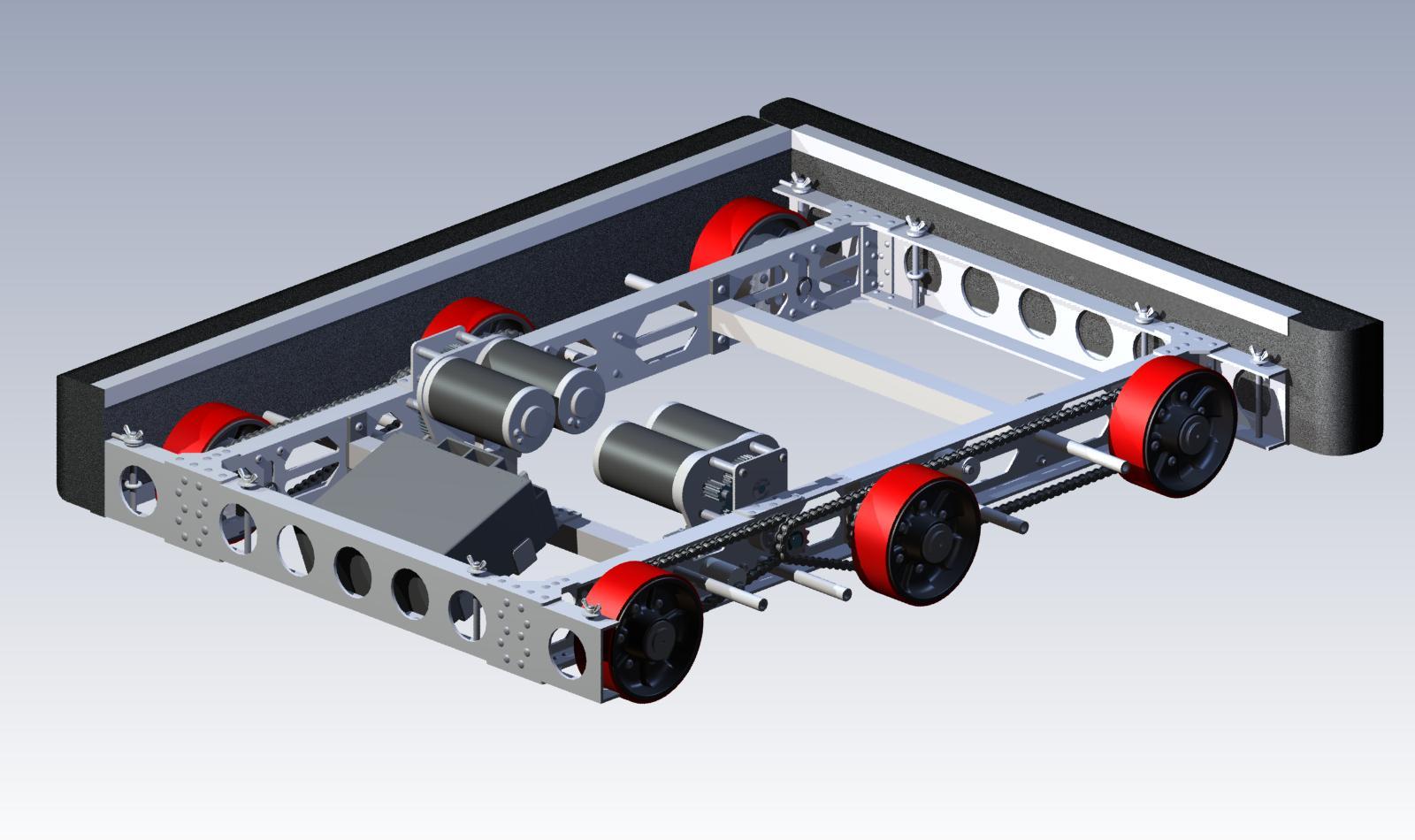 Over the past 6 years, our team has done well using a welded square tubing frame. In addition, we really haven't built a successful (or what I consider successful) non-tank-tread driven robot since '03. However, I wanted to get our students learning about alternative drivetrains & frame construction methods and push them to expand their mindset beyond welded tubing frames and tank treads. With this photo submission, I'm hoping to get some feedback/suggestions from those teams that are well-versed in successful riveted frame construction. If anyone else has questions/comments, I'd be happy to answer them as well.
This 6-wheeled drivetrain designed this summer uses 1" x 3" x 1/8" aluminum U-channel riveted together at the four primary assembly points. A piece of 7/8" x 7/8" x 1/8" 90-degree angle aluminum is located in both interior corners where the frame rail butts against the end rail. Rivets go through all three pieces (frame rail & both 90-degree angles), with the 90-degree angle pieces providing mounting tabs to rivet to the end rail. T-shaped plates are riveted to both the top and bottom for additional joint strength and stability.
Total weight including motors, wheels, chains, and fasteners (minus battery and bumpers) is just under 43 lbs.
Questions:
I was planning on using general purpose, 5/32" stainless steel blind rivets. Are there alternative suggestions? 3/16"?
Will rivets work for this high-impact application, or would it be better to accept the small amount of additional weight and use bolts/nuts?
If rivets will work, are there enough rivets to do the job?