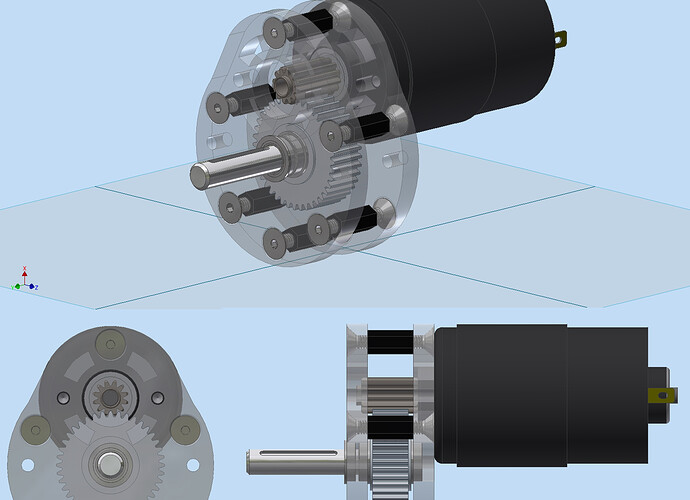 After seeing all the 775Pro gearboxes people have been posting over the past few months, I'm surprised I haven't seen anything like this: a basic gearbox that converts a 775Pro to a CIM-like output.
This was the most basic configuration I could think of, it uses a 12t and a 40t 32dp gear from West Coast Products for a ~3.33:1 reduction, which results in:
[list]
[]Free Speed - 5619rpm (~5% faster than a CIM, ~4% slower than a MiniCIM)
[]Stall Torque - 2.37N-m (~2% less than a CIM, ~69% more than a MiniCIM)
[]Output - 8mm (0.314in) shaft with 2mm keyway
[]Weight - ~1.05lbs (a bit lighter than a MiniCIM)
[*]Profile - 2.5in diameter (roughly the same as a CIM) with a small protrusion on one side for the 775Pro motor to mount
[/list]
Now of course there is bound to be a bit of efficiency loss that isn't accounted for in the numbers above, and I still don't think I'd use this as a complete substitute for a CIM/MiniCIM due to the potential for overheating. However, could you use this as an alternative to a MiniCIM something like a 3 CIM gearbox as an alternative to running 2 CIMs and a MiniCIM? I don't see why not.
Any feedback is appreciated.