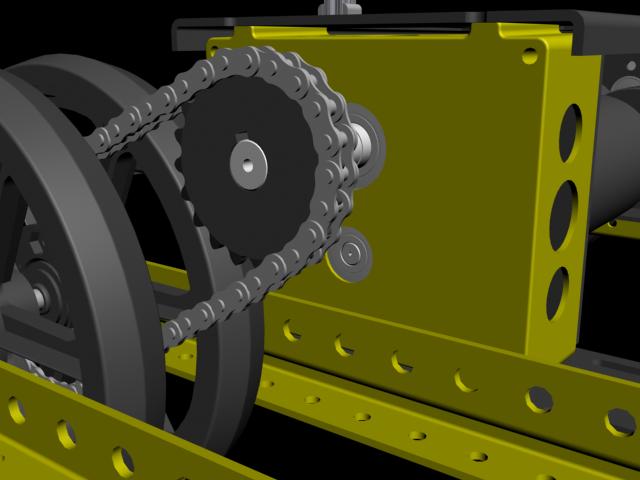 Just got a little board so i went off and made a chain. I LOVE INVENTOR.

That chain is very nicely done. Did you make seperate linkages or just pattern the features?
Are you planning to enter the Inventor Competition?
Ill post some of my work tomorrow probably, pending approval from engineers/mentors

Please tell me what program did taht i would love to own a copy of it.
I just used inventor 8 pro. Its a heck of a lot of constraints, over 375 for one side. But right now its stationary. From what i am thinking, i should have it able to move in about a week or so.
how are you planning to make the wheels "move"? I know its been done before, but I've never been able to figure it out. The most I can get about 1/2 a revolution. Once you figure it out, can you let us know how you did it?
That's crazy. What kind of computer do you have that will handle all of that! I've tried chain before but the computer froze.
That's what over-clocking your processor is for!

Not quite, i have a nice computer. P4 3.4GHZ, 2 gb of ddr 2 ram, and a radion x700 pro. I will be sure to let you all know how to make the chain move if i can perfect it. Its kinda tricky and i think that i will have it finished soon.
Make it move? When some computers can't even handle it? That will be interesting to see. Did you pattern the chain? One guy on the 3ds group in my team made a chain by creating a series of individual blocks and arranging them in a line. Needless to say, it took a while.

My computer may not be able to handle it, but I would like to know how in the heck you made that chain. :eek: