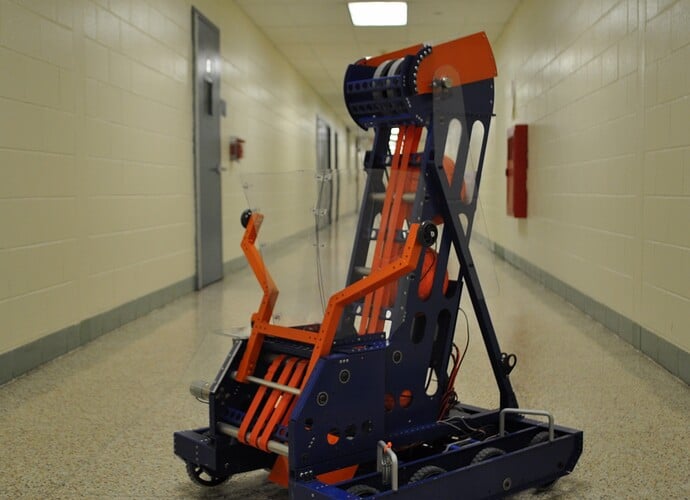 Here's 816's 2012 Robot in it's uncompleted glory. It's still missing some of the front appendage hardware, the rear appendage and some other little things. Here are some specs:
Drivetrain:
-8WD with raised front wheel
-Single Speed 11FPS
-2012 Kit Wheels
Ball Handling:
-Front Appendage Helps to Funnel Balls to Intake (Pending Revision)
-Intake Lifts Ball From Floor To Hopper (AM-9015)
-Hopper is Capable Of Receiving Three Balls Directly From the Inbounder
-Ball Lift Transports Balls From Hopper To Shooter (AM-9015)
Shooter:
-Single Axis Shooter Using 2008 KOP Wheels
-Powered By Three RS-550's through a Custom Transmission
-Hood To Control Arc, Powered By Two Vex Motors
Structure:
-1/8" Water Jetted 5052 AL and 1" Sq 6061 Tube
We're Extremely Proud Of What We've put in the Bag. With a little bit of tweaking and refinement, we feel that we just might make some magic happen this year.
Huge, Huge Thanks go out to James Tonthat, Sean Cantrell, Aren Hill, Ranjit Chahal, Jared Russell, Akash Rastogi, Andrew Schrieber, Nick Lawrence and The EWCP for their Help This Season. Collaboration is a Beautiful Thing. (Yes, there is a twin of this robot - but it also belongs to 816.

)