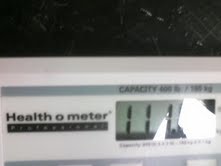 Cyber Blue's Robot as of last night. Lookin' good…
-Robot weight only.
Would it be a bad omen if we put our robot on the scale and it read 234?
I think it would be even worse if ours read 2240
Ours went straight to 666 then exploded. Anybody else having a similar issue? We think it might be the code…
Awesome!! But if it read 10010101… Then i might feel the code had something to do with it…
We are at 105 pounds, with everything on… But we will end up being really close…
Thats for you to decide. Other than the fact that would mean, by recent years' weight restrictions, you would be 114 lbs over… but maybe if we could have 240 lb robots some year… or just weigh 2 robots together.

See you guys in Wisconsin though! That regional looks to be super fun! Can't wait to see what other teams have built and see how well ours competes.
id say so! we weighed our bot a few days ago and it weighed 111 lbs too!
105 pounds before Minibot, bumpers, etc…