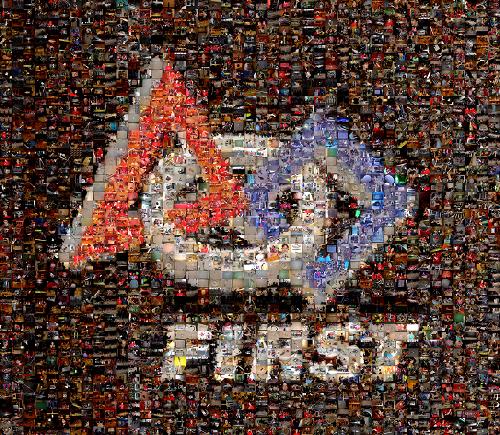 To answer your first question, I used MacOSaiX to make this on a Mac - available for FREE from macupdate.com. If you're a PC, please reboot and search Google for a comparable program or a tutorial - they exist. In any case, be warned that you need thousands upon thousands of images to make a mosaic of this quality and you need days of processing time to let it compute! Lots of RAM helps, too.
The individual pictures of this mosaic are from Team 246, Overclocked, Boston University and the Boston University Academy . The images span two seasons (05-06) in order to come up with enough blue and white. Since we have red shirts, that color was easier.
I highly recommend duplicating your source images in a REDUCED size before doing this. The final output is going to be larger than you need anyway - mine was 15 gigapixels. Yes, giga with a G. If you have any questions, feel free to ask, but it might be better for you to ask the oracle (google).