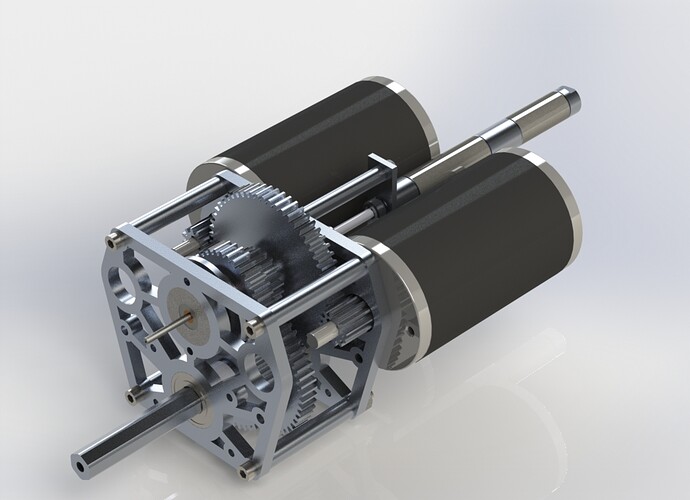 A custom shifter-shaft PTO shifter. Uses a 3-position cylinder from Bimba. Low speed is 13.5:1, high is 5.88:1 and PTO is 22t sprocket at 5:1. This results in speeds of 16.5fps and 7.2fps with a 4.2" wheel. Weighs 2.16lbs without cims.
The low speed is a tad high, but I can't get it lower without making a lot of other gears much larger. At the moment it is enough to get away with, and we can use an 11t pinion to bring it down to 6.6fps with a 4.2" wheel.
This uses a custom 1/2" diameter ballshifter shaft and 3/16" balls. However, by shifting on the upper shaft and using a steel shifter shaft, I'm confident that it would make it through a season.
The amount of lathe work this requires is inordinate; two moderately complex parts, one very complex part, and three basic parts (plus 4 spacers).
I will update the GrabCAD partner space with this model soon here:
https://workbench.grabcad.com/workbench/projects/gcBvYbFAI7TQYHiKMOq7jiSQVQxuTYPyTAXwhy5IZUFIGK#/space/gcvLTQUiZ-c9-szjJsPH3WvpxdeKOB9B1Z2b-tQWAq3gUh