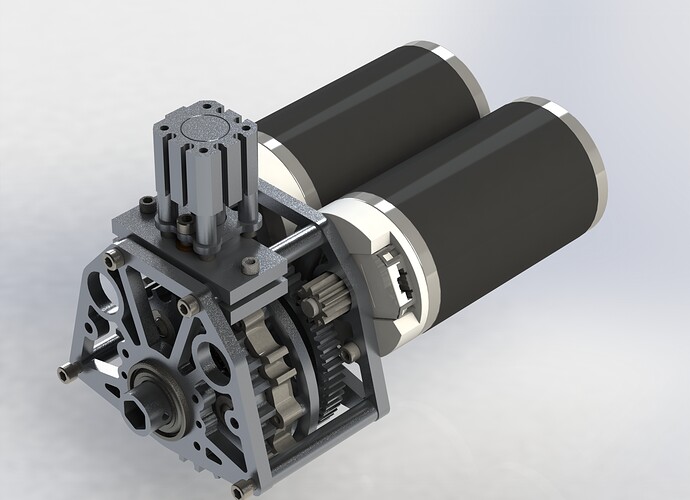 ABS-114 is a shifting gearbox with a high gear reduction of 5.82:1 and a low gear of 19.78:1; a total spread of 3.4. This results in output speeds of 16.8fps and 4.9fps on a 4" wheel.
Both reductions first undergo a 64:11 reduction from the CIMs. The high gear is linked to the carrier plate for the planetary gearset, which directly drives the output shaft. The low gear goes to the sun gear of the planetary for an additional 3.4:1 (72/30 + 1) reduction.
The PTO is not powered while the gearbox is in drivetrain mode, and vice-versa. This is accomplished by using the differential aspect of a planetary gearset; either the ring gear is locked or the carrier plate is.
Weighs 2.8lbs without CIMs, and occupies a space smaller than a WCP 2-cim shifter. I think it is possible to get it lighter if one machines the planetary gearset out of aluminum, but this requires so much machining as-is I would not try that.
CAD is available here in the ABS-114 folder: https://workbench.grabcad.com/workbench/projects/gcBvYbFAI7TQYHiKMOq7jiSQVQxuTYPyTAXwhy5IZUFIGK#/space/gcvLTQUiZ-c9-szjJsPH3WvpxdeKOB9B1Z2b-tQWAq3gUh