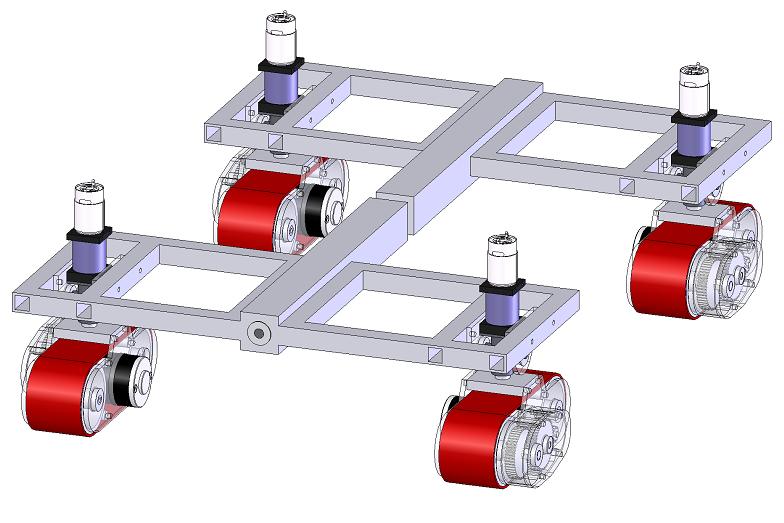 Thanks everyone for the input on the first one. I did this one based on suggestions made by others and few ideas of my own. To give a base frame of reference this idea was for an all terrain swerve that would be driven near my home. The terrain would be rough but mostly just dry grass and dirt, perhaps mud but not a lot (fairly arid climate). Driving will be done in a very open area and almost all turning would be done while moving.
The changes that were made:
Wider treads to give a smaller PSI when driving in loose dirt and gravel. At about 70 pounds including controller and battery it would be about .875 PSI. The wider treads also had the effect of pulling the CIM in so that it doesn't stick out as far and is in less danger of damage.
The gears are now protected from dirt and water by a shield made from several layers of routed polycarb (same stuff that makes the rest of the gear box). This would be to protect during dusty conditions and muddy driving.
I changed the frame because the former would always have one module off the ground unless on a perfectly flat surface. While on a FIRST field this is no problem, on a dirt bike course this could cause instability.
I have done the math to see how much torque it would require for that motor to turn the modules. Given a coefficient of friction of 2 (much higher than it would be on loose dirt or gravel) and that the weight is concentrated at the corners of the treads (absolute worse case scenario, also means that I don't need to do an integral) based on this I know that it would require 10.208 foot pounds of torque to turn the module. A fisher price run through a banebots 256:1 gear box that is sticky (~50% efficiency) has ~40 foot pounds of torque giving it more than enough torque to turn the module.
Thanks again.