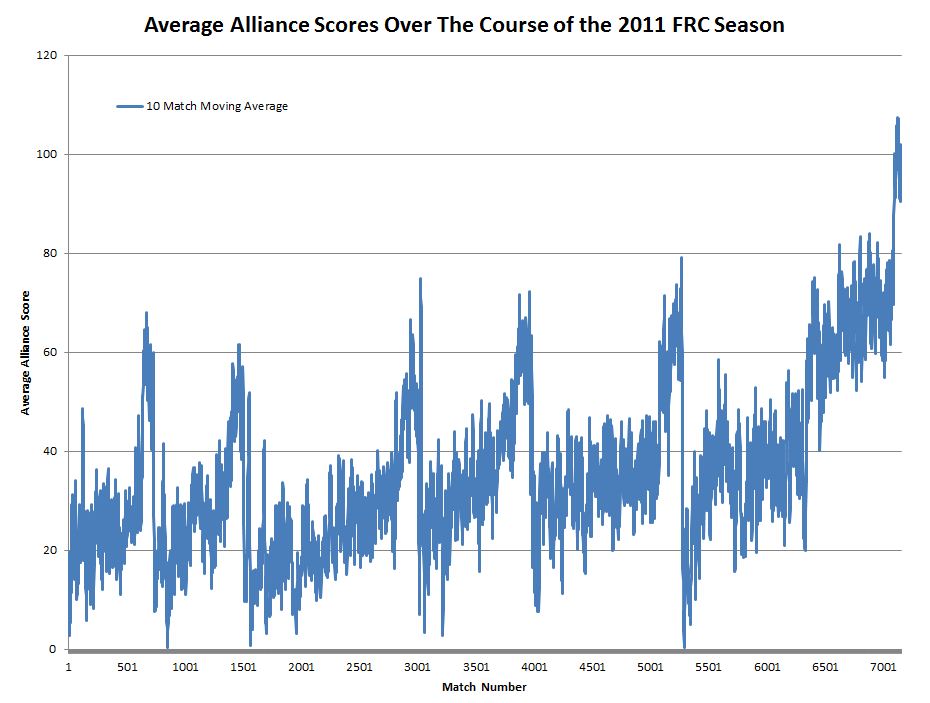 This is a plot of the 10 match moving average of alliance scores in 2011. The x axis is matches in the order they were played (ie they are not sorted by event, just by timestamp). A moving average is averaging a block of matches together and basically each point you change one number in the average. In this way, you reduce the volatility of the data. The trends remain the same without the moving average, it is just much harder to look at. The data is from the
@FRCFMS
twitter feed, Andrew Schreiber was nice enough to mine it for me.
I think it's neat for a couple of a reasons. There is a clear upward progression in alliance score over the course of the season. The spikes are all elimination matches, so you can see that elimination matches are clearly higher scoring. You can also see how large each week is compared to the others by the distances between the elimination peaks. Also interesting is that the Championship is clearly played on a different plain compared to other weeks, as the average match score is inline with a typical elimination round!
Worth nothing that some of the upward trend in the data between the peaks could be due to a difference in time zones as some regions may have been playing in elimination matches while other regions were still in qualifying rounds.
In case anyone is interested, I did some more work on pinning down the average robot which EWCP has on their blog.
Average points per robot across all qualifying matches in 2010 was 1.4, and in 2011 was 11.3. At your typical event, the 50% percentile robot is in the elimination rounds or on the verge of the elimination rounds.
Some of the most interesting other trends in that data were in both 2010 and 2011 about 20% of alliances scored zero points after penalties, and in both 2010 and 2011 penalties reversed the winner about 5% of the time, and turned a win into a tie about 10% of the time. I was not expecting to see such similar numbers between such different games.