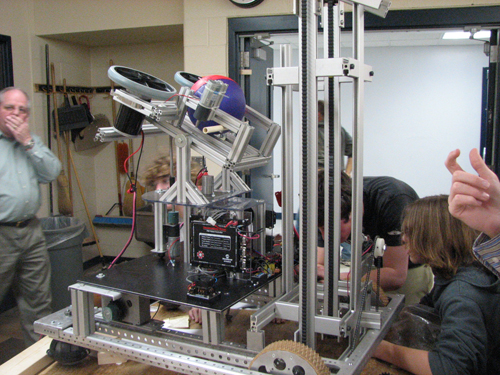 She's almost done! Being built, that is.
Looks good 2 questions though.
1.) Is there a peice not shown the top that aids in loading balls?
2.) how does all that extrusion weigh?
To answer your questions:
Yes, the hopper is not finished yet and that will connect the top of the belts to the turret
Surprisingly, the extrusion doesn't weigh that much. Right now the robot is well under 100 lbs, and the hopper and electronics won't change that too much. My guess right now would be we are looking at a final weight just around the 100 lb range give or take a few. Simple is light.
Looks good. One question though. Will you be feeding balls directly to the shooter, indirectly to the shooter from a hopper, or both?
Due to time constraints, the balls will go straight to the shooter. No hopper here.