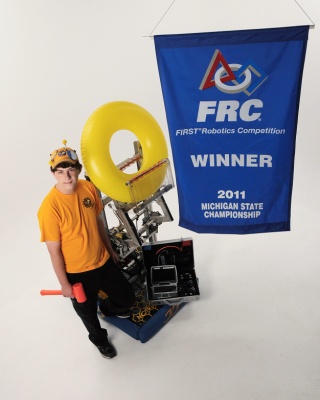 One of my senior pictures with the Killer Bees 2011 robot.
Is that a deadblow mallet?
Yes. 4lb mass.
It's known as the BOH (Big Orange Hammer) to 33.
I want to get my senior picture taken with the robot! Did you just ask, or did you have to go through a lot to get it done like that?
I asked Jim (lead mentor) and the photographer. And both said Yes, so it was just an issue of transportation, which is easy.
That's just plain awesome! Great picture.
Posing with the Robot is a bit of a tradition with the Killer Bees. We have had students do this many times. I think the first one was in 2004. I think this is the first overhead crane shot. Very cool.
I also think this is the first time the BOH has been immortalized in this way.
::ouch::
Im going to this my senior year too. I like the angling and style of the photo, nice.