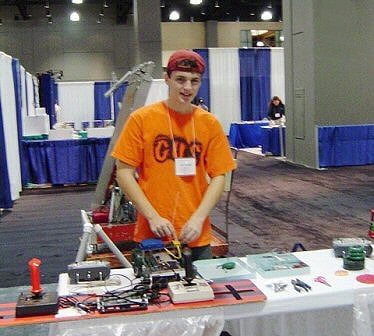 Here I am at the 2005 NSTA Convention at the CTCC on Thursday promoting FIRST. Also pictured is one of the Vex robots that we had there. Another student from 228 and I eventually got bored of this one, so we built a second tetra-scoring Vex robot.
Behind me is RAGE 173, and behind the table is my 'Team 228 in Vex' robot (not visable). During these two days, my 5-pound Vex robot competed against two different 120-pound FRC robots (RAGE 173 and Paragon 571) and survived in one piece without damage!
Next (and prehaps final) stop in my 1,202.7 mile Vex tour: Rah Cha Cha Ruckus!