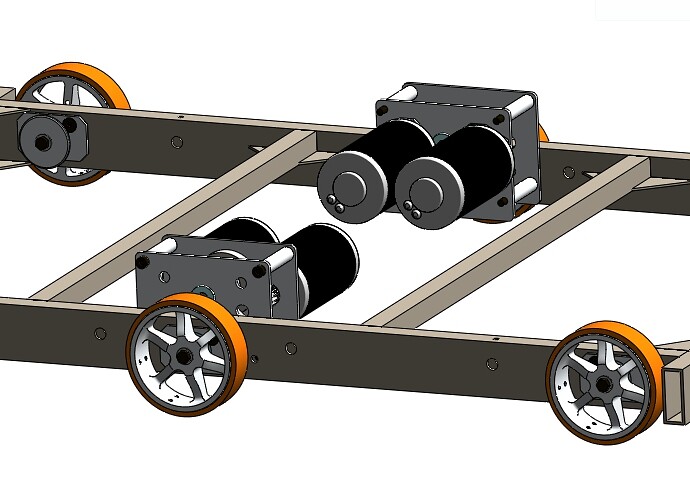 Hello everyone,
This is a part of team's 3083 pre-season mechanics, design and CAD project.
We designed two drive bases for possible use in the upcoming season. This is the first of the two and it is a "standard" WCD. We are still working on the second design, but we expect to publish it soon.
I want to emphasize that this was designed and modeled by our student team members, with only little help by our mentors.
We are eager to receive your feedback and improve our design.
More photos: https://picasaweb.google.com/artemis3083.hofcarmel/Artemis3083WestCoast
Specs:
Modeled using Solidworks
Drive train:
This is a "West Coast Drive", using 6 cantilevered wheels and directly driving the middle one.
Wheels: 4" AM Performance Wheels, Roughtop tread (1" thick)
Center Drop: 4mm (0.16")
Wheel to wheel distance – 400mm (15 3/4"), 7mm chain tensioning distance
Transmission: ASA-25 size chain, 22T sprockets
Tensioning is done by moving the wheel and bearing block sideways, up to 7mm.
A screw on the side of the frame is used to assist in applying the force and controlling the amount of tension. Then the bearing block is locked in place by the tightening the plates attached to it.
Weights:
11.9 kg (26.2 lbs.) - Total weight
6.8 kg (15.0 lbs.) - Without motors
4.9 kg (10.8 lbs.) - Without gearboxes
2.0 kg (4.4 lbs.) - Weight of frame
Gearing:
Custom gearbox based over the Toughbox
Gear ratio: 5.4 : 1
Two transmission stages: 14:45, 24:40
2 CIMs per gearbox
Calculated maximum speed: 4.3 m/s (14.0 ft/s) (15 km/h)
Frame:
Weight: 2kg
Built from Magnesium alloy profiles, donated to us by our sponsors, Alubin.
The frame is all welded together.
Bond profiles: 20mm x 50mm, 2.5mm thick
Support profiles: 20mm x 20mm, 2.5mm thick