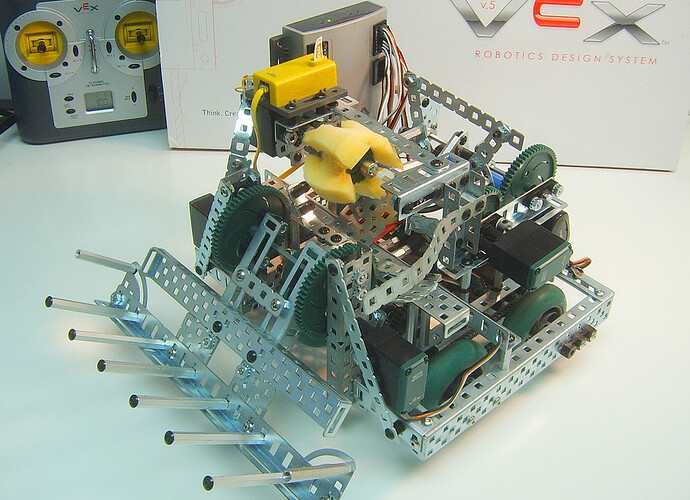 Here's the robot that went undefeated and won the 2006 Rah Cha Cha Ruckus Vex Tournament.

Since I didn't know which of the three scoring methods would prove victorious - pushing balls to your side of the field, scoring in the high goal, or parking on the ramp, I decided to do all three. I'm still amazed myself on how many mechanisms I was able to pack into a one foot cube size requirement.

Here's the specs: 2 motor 4WD drive, dual motor front scoop that can load 10 balls at once (although if you drive a large pile of the small wiffle balls into the wall of the field it could pick up 14), a ball indexer, a ball shooter that could score the whiffle balls into the center goal while parked on the top of the 30 degree ramp, and a mechanical brake that drops down and can lift the front of the robot off the ground.
I think only one motor would have been sufficient to power the front loader, but since I removed the clutches from those motors to put shaft collars on there, I decided to be safe and split the load among two motors to alleviate any chances of stripping a motor.