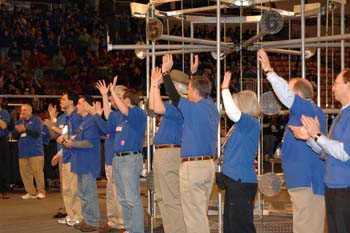 The judges from the BAE Systems Granite State Regional signing applause for rookie team 1991 after they won all three Rookie Awards (they were the only rookie team there).
Many team members from 1991 came from a deaf school, so they have been signing applause in front of us all day. After they announced their name for winning the Rookie Inspiration Award we, instead of clapping, signed applause.
Gradually, the stadium grew quiet and when you looked around, everyone was signing applause!
Definately one of the most moving FIRST experiences of my life.
I'll never forget it.