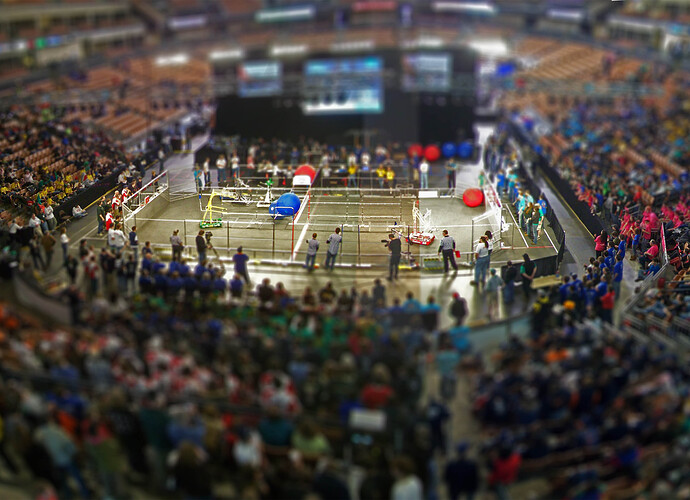 Composed from seven photos taken during Semi Finals 1.4 of the 2008 BAE Systems Granite State Regional.
Wow, this is one of the best and coolest photos I've seen of a FIRST event… any chance for a higher/full rez version?
That's really cool.
It looks like a miniature model.
Don't worry, I have north of half a terabyte of web hosting space, and five terabytes/month of bandwidth.

Here's the full-resolution image:
Dimensions: 6372 x 2992, Size: 3.2 Mb

And the same image, sans tilt-shift effect:
Dimensions: 6372 x 2992, Size: 13.8 Mb

Thank you, and I took that bit out of my post after I saw you posted this haha… thanks again!
wallpaper++;
now my new background :D:D:D nice work!!! wonderful picture!
EDIT: Zoom in and you can see two of the same robot lol (121 and someone else) Good job 121 on inspiring us all! now it is forever saved in a wonderful picture
Very, very cool! Plus, you've immortalized the moment that seemed to last forever as the referees tried to get the correct autonomous score onto the big screen.
(The score was displayed as 32-32 for the longest time. However, as one can readily figure out from this photo, the actual autonomous score was 36-32, with Red (121, 40, 134) over Blue (1519, 126, 1307). I still don't know if the score was ever properly fixed, but Red clearly won the match in any case.)
Congrats to 121, 40, and 134 – 2008 GSR Champions!
That "Someone Else" would be 1519's hurdler. They were seeded 4th, selected 126 and 1307 and took the alliance of 121, 40, and 134 to a fourth match.
Yeah I realized that after Ken responded… I didn't get to see the BAE so I had no idea, all I knew was that 121 and friends won. Which looks good for our design (thanks 121!!)
He's right, it does look like a little model!! That is so cooool!!!

Awesome pic, Art! the tilt-shift definitely helps smooth out the lines between the separate shots.
I see me…

Absolutely an amazing picture Art. I love how it looks like you are moving because of the blur effect; it really spotlights the field! Kudos.
–Mike