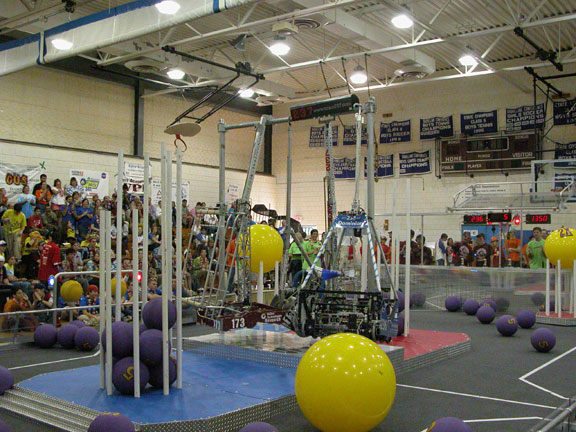 Bash @ the Beach had all four robots hanging for one match. It was the play of the day.
sounds like everyone at bash had a lot of fun. every single offseason competition is fun… that picture took me back to 2004 UCF regional where we had 4 robots hanging (945, 311, 233 and 61)… it was great.
i only can wish to be at bash. it would be great if any videos can be posted from bash…

I know of one video, of Tom Schindler riding down stairs on his Segway, it was kinda funny to watch because there steps weren't that wide.
i have all the videos of our matches… i can post them all if you want =D
that would be great hairy… i mean harry… :P. thanks man…

Ummm…anyone have any results?
1st place went to Team 716, 238, and 1124
Runners up were team 237, 121, and 1099
Top seed went to team 195
all i have to say is that this competition gets better every year…more and more carnage! lol
:yikes:


3rd team was 1124, I believe.
i agree, bashs get more interestin every year, this is only my second but i could tell the difference. in the quarter and semi finals everyone got verrrry aggresive, it was interesting to watch. robots were knockin eachother over, pushing each other, it was fun :-p
I know that RAGE took home 2 awards, One was The Gracious Professionalism Award, and the other was the Spirit Award, there was also a tie for the best play of the day award, and RAGE came home with that as well(strings were drawn to decide who got it). I believe team 549 the devil dawgs, won the Beach Bum award, and I think 228 Team Gus won the most photogenic.
Yeah it was especially fun for you Emily, because you got swapped to team 716 who was on the winning alliance. LOL
so…your point? :-p i was just lucky to be swapped into tht team. but i really did love the plays tht day, it was fun to watch robots go sooo aggresive. i mean there was at least a nocked over robot each play in the quarter and semi finals. i couldnt beleive how damaged some got though like in the last match the other teams transmisson wasnt workin.
i thought that a cool play was when housywhatsit was able to flipitself back up, which has never been done before
Yea! See, that's what happens when you let a lady drive!! It's called a "woman's touch"! It can't be reproduced!


Other than that, the four bots hanging was intense! I've only ever seen that once or twice before, once at the NJ comp, and I am still amazed! :yikes:
We had a great day at Bash - the organizers and volunteers did another awesome job! I thought the raffle for the team baskets was a terrific idea (am sad because I didn't win one!) and that the FLL will get the proceeds was a really great idea.
We look forward to next year!
We also righted ourselves once (too late in the round to have a chance, but it was fun getting up).
As for awards we got the "coolest trick" for holding a wheelie for about 10 seconds then firing balls into the openings from 48 feet away. (not bad for our driver deciding to enter at the very last second

)
Great event - I had tons of fun. The 4 bots hanging were great - I have another picture of it below.


nice play of the days guys–glad u guy all had a good time-- nice when competitions go well for everyone
congrads on those teams and their bots!!
Oh man… :ahh: Stop with posting of pics with teams hanging against us… :ahh: It's embarrassing. :o
Anyways, that's what we get for changing gear ratios on our shimmy and going slower across the bar.
That's also the reason our "Pendulum of Doom" trick for best trick competition didn't work as well as it did during the end of the 6 weeks.

I happen to think the "Play of the Day" was when Rosie ripped off Buzz's arm during a tug of war for a 2X ball…and of course, in true Rosie fashion, we went right to Buzz's pit after the match and assisted in the repair job.