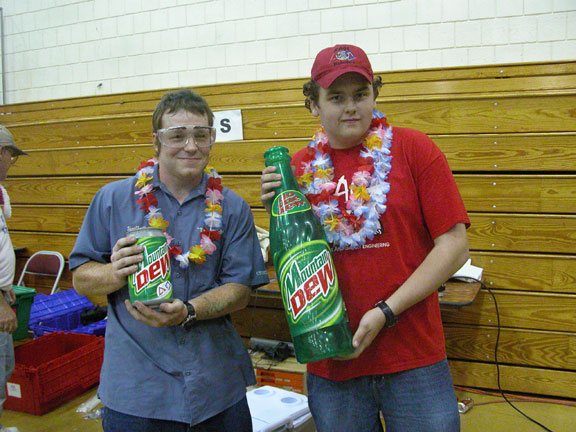 What more can you say…
Yeah, that was great, only problem is, is that during the day at some point my giant dew bottle was cracked, meaning I either have to get a replacement, or try to mend it somehow, using a soldering iron or something like that, which will be interesting to try to do, but I will probably mess that up leaving me bottle less and having to buy another one. But it is all good.
Get one of those huge inflatable dew bottles. That would be more interesting.
Is it just me or does Elgin's hands look monstrous in the picture?
Umm… Yeah. This picture kinda freaks me out too… Maybe it's just the fact that I finally shaved after about a month and I look like a little kid…again.
But the hand thing is weird too… :ahh: Who photoshopped my monster hands in this pic?? :ahh:
Hahahahah… Jon, you almost met your match. You've still got maybe 8 liters on him, eh?
Elgin used to have a big dew bottle, but i do believe it too cracked didn't it Elgin? But yeah I still have to get one of the big cans like Elgin's. I never thought of an inflatable one, but you can really put Dew into one of those can you? I mean used to be able to get 10.3 liters into my bank one.
OK, here is the full story of the battle of the Dew Boys.
At the Championship event in 2003 in Houston, I saw RAGE had a huge dew bottle. I immediately went home after that and bought my own online (and a dew can) and brought the bottle to Bash at the Beach 2003 - And this picture came out. HERE
Jon K saw this picture as my Who am I pic and thus uploaded his pic from Houston 2003. HERE
In the mean time, I broke my dew bottle by stepping on it… :ahh: But I still had the dew can.
Through Pm's on CD, Jon learned about my dew can, and we tried to get together every competition this year and take a pic of his bottle and my can, but were not successful until Bash this year resulting in the pic you see above you.
And then now, apparently, Jon's bottle has a crack in the bottom as well…
So in the end, I win… Since I still have a surviving dew container left that will hold real Mt. Dew liquid of some kind.
But I do see that in Jon's signature now that he is planning on getting a dew can now of his own so, this story is left…
TO BE CONTINUED…
Yeah, and I had to live with him after he drank it all… :ahh:
I'm still tracking down our '03 bottle, which i believe is in drinking condition.
Oh no… If you do that I'll lose… :ahh: :rolleyes:
Latest New:
"It's somewhere in CT"
note: the owner of the bottle is constantly drifting between NH, CT, PA and NY. He's currently in PA/NY and will look for it when he returns to CT around thanksgiving (maybe?)
Please Note: Elgin is still wearing his safety glasses. Practice safe Dewing.
[left]:rolleyes: This is not a public service message.:rolleyes:
[/left]