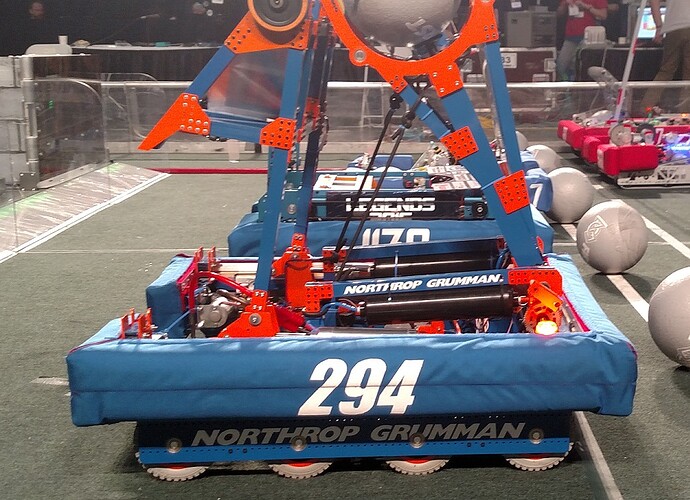 Beach Cities Robotics team 294 presents Dominus. Dominus will be competing at the LA and OC regionals
Team 294 is proud to present our 2016 robot Dominus. Our students have put in over 2000 hours from kickoff to bag day. Thank you to our sponsors Northrop Grumman, Impresa Aerospace, Google, Raytheon and Boeing.
Robot Details
Drive Train
8 Wheel Tank Drive with 6" Pneumatic Wheels
Custom BCR drive rails with live axles
Custom 2 speed dog gearbox with PTO
Intake
Deployable intake with poly belting
Wheels on the sides of the intake allow breaching the porticlus
Shooter
Arm is powered by a cim motor with a 270:1 gear reduction
Shooter wheels are powered by a 775 pro with a 3:1 reduction
Sensors
Camera with live video feed helps align robot when returning through category c defenses and looking for boulders
Shooting camera is used for targeting and auto routines
Light sensors detect once a ball has reached the shooter to stop intake sequence
NavX to assist with auto routines
Encoders are integrated into drivetrain and shooter gearboxes for feedback
All motor controllers are wired through CAN bus
Dominus will be competing at the LA and OC regionals. Good luck to all the teams this year.
Solid robot. I enjoyed watching you guys in the elims.
I also made sure to bring pit visitors by your area to check your robot out.