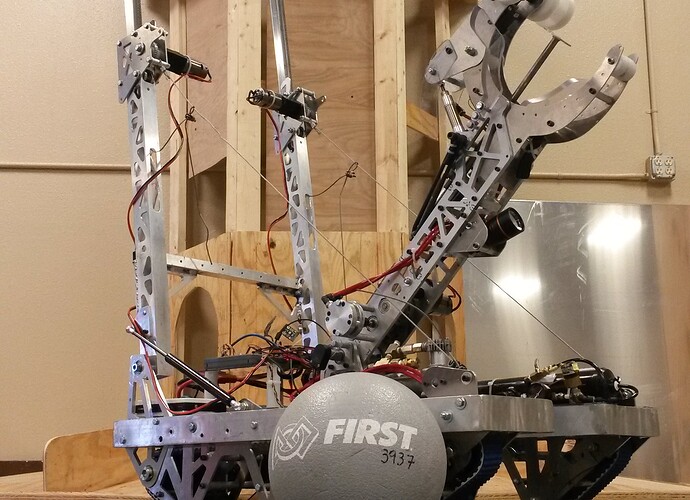 FRC Team 3937, Breakaway, would like to introduce our 2016 Robot entitled "Freedom". More information to come.
Mini claw! Like the name

See you soon. Arkansas Rock City is going to be great!
Meredith
You guys sure do like claws dont you?

Looks neat. Same style of punch as 2014?
Here are some specs:
Drive
4 CIMs single speed
Custom Designed Tank System
11.5 ft/s
Manipulator
Arm system driven by Mini Cim
Intake using a Bag Motor
Shoots boulders from the Outerworks to batter
High and low goal capable
Shooter is a crossbow type system using a 775 pro and a modified vex ball shifter (Similar to our bot in 2014)
Scaler
Rack and Pinion system using 775pro on each telescoping arm
Timed with independent encoders
Can scale in < 3 seconds (Time is just climbing)
General
Can complete all defenses (Yes, that includes the low bar)
Total bot can shrink to < ~15 in
Embedded camera in the claw for spotting balls
If you have any other questions, please ask. This has been a long season and congrats to all the students who helped to make this creation!
Very excited to see all teams at Rock City and Smoky Mountain! See you all soon!
We prototyped a wheeled shooter and the claw. The differences in compression were less noticeable with the claw than the wheel. We also like the high shooting point. This allows us to shoot over defenders.
Awesome looking machine. Looking forward to seeing you guys at Rock City.
I'm having flashbacks to 2014…
Awesome looking bot! Good luck at your competitions this year Breakaway.
Do the hanger arms passively fold down when crossing the low bar?
They start in the down position, and then we release them with a pneumatic cylinder and the arms come up using gas shocks. The arms have two positions states due to the way we have the steel cable wired. When the arms are fully extended, the arms lean out about 8 degrees. When the arms are in, the arms lean in about 8 degrees. That brings up our front end at the end of the hang.
Looks like another great robot from Breakaway! Sorry we won't be seeing you at Bayou this year! See you in St. Louis!
We thought about naming our robot Freedom Mother******, but ultimately decided on treadacus.
Very cool guys!
Excited to see y'all at Rock City. Those tanks look mean.

Loving the return of the claw! Can't wait to see our Arkansas friends at Rock City this week.