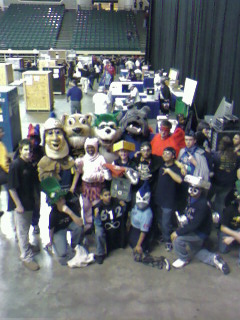 A collection of mascots at the Buckeye Regionals in Cleveland, '08
I think you'll find a much better quality version of this pic here.
And William is not a mascot - he's a Safety Escort!

WOOO… Its me STICKY the GaCo Gecko form team 1629… Just Wanted to say it was great meeting and hanging out with all of you… It was my first year as a mascot and Im hoping to be back next year to see all of you again I HAD A BLAST!!
Thanks again you guys really know how to welcome a new mascot into the family!
PS. quick shout out to Emily Rosser She made our costume herself from scratch THANKS EMILY!!!