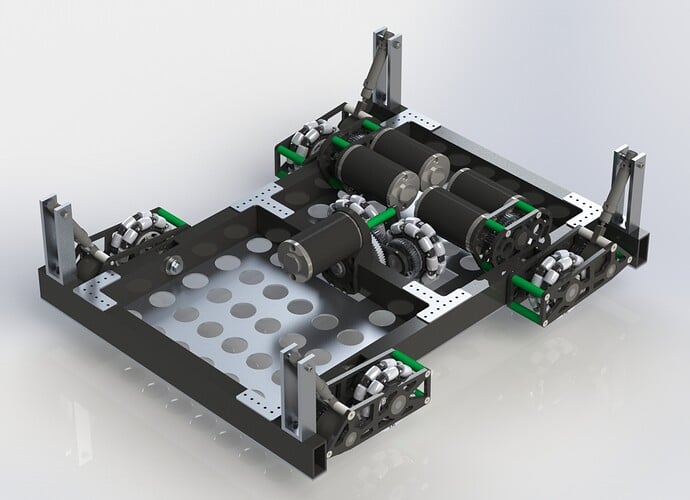 A new butterfly drivetrain that we hope to test in the offseason. This allows for strafing in addition to a "high/low speed configurations. FESTO pistons are connected to the wheel pods, which serve to switch between a 4" omni wheel and a 2.5" colson wheel. In "colson-mode," the sprocket and gearbox reduction allows a speed suitable for lasting some time in a pushing match, and in "omni-mode," the drivetrain has a high speed, and the omnis also allow for strafing using the 2-omni system in the middle, which is similar to Vader from 148.
Specs:
Weight: ~38.5 lbs
High speed: 16.09 fps
Low speed: 7.31 fps
Note: Speeds were calculated by JVN using the "Drivetrain Adjusted Speed" column.
This is on my GrabCAD under DEC-102: https://workbench.grabcad.com/workbench/projects/gcOhfXOehYETdalk4HNJ_3A0HceTxrt6Dv4ytxedJppYkO#/space/gcy-RpuR7fueMhPxpys8KUh7yF1NwcTEWAlStxFm6c3ypj
STEP Files will be uploaded in a bit.