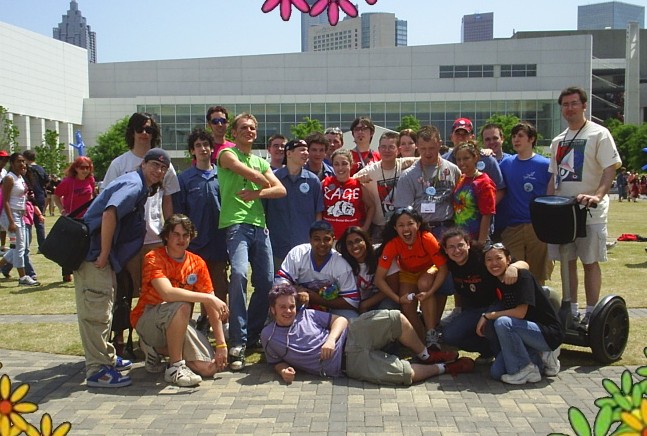 One big conglomeration of the CD-ites
/me cries…

Someone photoshop me in there… Like… maybe next to Corey, and in front of Tytus or something…
:yikes:
edit/And Lisa, umm… why does this picture have like… flowers on the border?
And, Now that I am in the chat, there is only one person I don't know who it is.
Tall kid in pink maybe from 233 behind Tytus. Who is that??
Gotta love that crew. I was very happy to see all of you there. It was fun time.
Elgin… you were missed.
Mmmm I missed that picture. Oh well, I belong there in spirit I think.
Who knows…
I was standing about 40 feet to the left of the picture, but didn't even know everyone was getting together.
Oh well.
Man. Who was I giving one of my business cards to while this picture was being taken?
It's ok Elgin, I was .5ft. out of the picture
That would be me.

It was really nice to see people face to face instead of through the forums.
I was in that picture, but not when that was taken, I was talking to someone and I looked over and noticed a picture being taken and went over but I guess I wasn't fast enough.
I was…getting my hotel room XD
so I wasn't even at the venue.
Our advisor like dragged me off, even though i didn't want to go at all.
awww, now i have a picture of the people i talk to. So i can finally show my mom who i'm talking to…
aww, i miss you all sooo much already!!
by "you" im assuming me lisa right!?! =P
anyways… it was definatley great to finnaly get everyone together in one place *espically this year most of the chat people being seniors at least 6-8 that i can tell… so thank you everyone for a great time at nationals outside of the competition espically \m/
Yeah right Harry…

\mm/
For all the things I heard about happening this past weekend, I missed seeing the people I only talk to online (for the most part) the most…
Even though… 13 out of 29 people in that picture live in CT. :ahh:
And I have personally met all 13 of those people and 4 more who are not from CT.
But I missed meeting the other ~10 or so I never met before.

Maybe next year???
Ooh… ok… You have to upload a Who Am I pic to CD.
That's what threw me off…
yay! i made it for the photo
i was just returning from a match and watching at first this photo almost being taken then i hear dori scream for me…lol…had to fun in of course…thanks guys!
i miss you all already… back @ home and school and you guys aren't around to make me smile
gotta love you all…ttyl later buddies…
-amused- i'm in that picture! look to the left… i'm walking towards you all… there should be another picture similar to this one floating around somewhere where Gabe decided to pick me up…
What? You mean this one?

Yay thats the one that I am in although I am behind some one elses head. I am the only one with green hair.
YAY I caught a cool memory on my cam. Bad makeout of the picture, but it's still amusing. >__<; Bad quality. Grr on my camera.
Hahaha…good ol' big mouth of mine.
I saved this picture on my computer since the one my camera took was absolutely horrible. The person taking it wasn't the problem – it's just my camera in general. Growl.
I'm gonna miss the seniors though…Come back for the chat you hear?!?! =( <3
yeah… that would be it. thanks for the boost

and kyle… we're in the same picture and i still didnt realize it was you… >.<; sorry buddy lol
yea i was looking at that and thinking I know her! but as soon as that was pic was over I had to leave and go back to my pits. sorry I missed you to, but there is always next year.