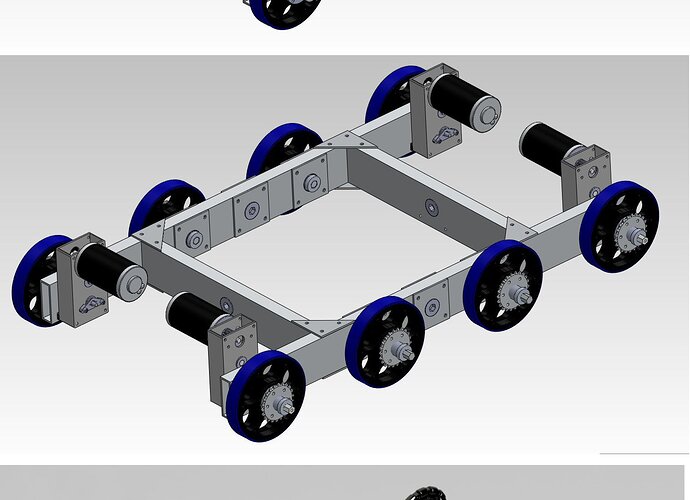 This is a universal chassis that I thought up and designed in the last couple months, and is also my first full CAD project.
The concepts behind the chassis are:
1: It can be completely built with only basic shop equipment (drill press, band saw, etc.)
2: It can accept as many basic drive trains as possible (though only a few are shown):
4WD
6WD (dropped or flat center)
8WD (dropped or flat centers)
10WD (with slightly uneven spacing)
Omni (slide style)
The drop or lack thereof is acheived by rotating the center bearing plates 180 degrees. Their holes are 1/16'' of an inch below the center of the bars, while the holes for the other wheels are 1/16'' above the center of the bar.
Specs:
Bars: 3'' x 1'' x .125'' 6061 Aluminum
Wheels: 6''
Drive: ToughBox Nanos with chains to any unpowered wheels
Overall: 35 x 26.9''
This is version 9, and I am about to start verion 10, which will move from hex to standard axles to reduce costs. Any other suggestions would be more than welcome.