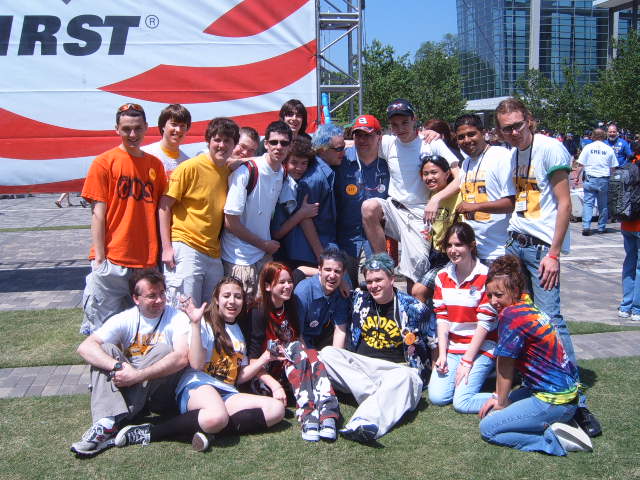 this is the chit-chatters of FIRST hehe.
noone could stay still im suprised this picture can actually exist But there it is. it was goos seeing everybody there.
I was fixing our broken robot when this happened. Bah.
Oh sure… Of the 3 pics of the chat group I see, the only one that ends up on CD is one with me not looking at the camera… :rolleyes:
Not that you can tell it's me anyways the way my blue hair blends in with the work shirts Scott and Ted are wearing… but still.
LOL
Well, it was better than the (almost) horrible photo shop last year to get me in the pic. :ahh:
Great to see everyone again, or for the first time and I hope to see all of you sometime before next year in Atlanta!!!
so what, got me at the very moment that i looked like the huntchback of notre dame.
I tell ya Tyty…
It's the flip flops man… You gotta invent a pair with a little more protection, and support. LOL
How many times did I end up stepping on your feet?
I can't remember… but I know it was a lot.
Ok lets see If I can get all these names down from Left to Right
Art
Nonnemarc
Greg
Pelan
Sam
The Dez
Me
Ashley
Ted
Chris
Elgin
Kevin
Scott
Corey
Jay
Lisa
Laura
Arefin
Court
Tytus
How is it possible that I miss this picture every year.

It takes a very special group of people that not only build robots and are willing to stay at school hours after the bell rings, but then get online and talk to others like them in a chat room.
One of the geekiest things I have ever heard said was when their parents discontinued using AOL. "Dad, you just deleted my social life!"
i love everyone! good seeing everyone. i look like i am posessed or sumthing but hey very nice picture!
-Court-
I guess a national finalist is a good consolation prize?
I haev to admit that Corey does make a good foot rest. But wheres teh one where he makes an even better chair?

Great times everyone. I miss you guys already.
Jay
oo darn i missed it this year… sadly… almost missed last years too… but somehow i got into that…
i won't be seeing you all for a long time but chat with you all soon
<3
I actually missed the first chat picture because I was chasing down Greg Needel on his Segway. He was about to throw my bag, including iPod and cell phone, into the fountain. Thankfully I rounded everyone up one more time after catching Greg and we were able to get a good picture.
JT
229