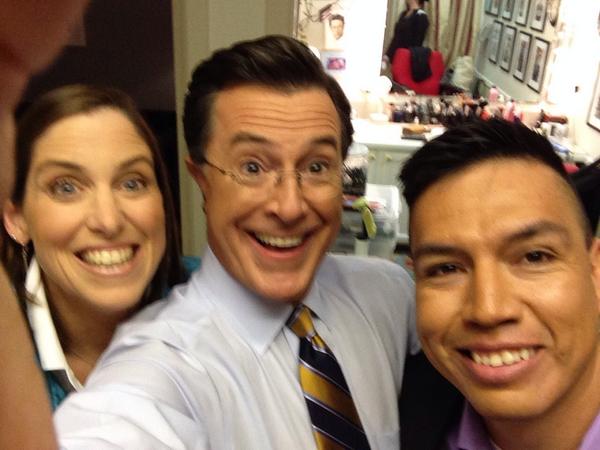 FIRST Alumnist Oscar Vazquez will be on the Colbert Report!
http://thecolbertreport.cc.com/guest…-Oscar-Vazquez
He was part of the 2004 team that beat MIT and all the other universities and colleges that participated in the MATE National ROV Championships.
The documentary has been receiving rave reviews across the country.
It has been shown at the Clinton Global Initiative, Aspen Ideas Festival, Center For American Progress, LULAC, NIC, NCLR and so on…
A shorter version was broadcast last Sunday on MSNBC and Telemundo in Spanish!
For info about the doc go here
http://www.underwaterdreamsfilm.com/
Here are some of the reviews
REVIEWS AND FEEDBACK
"The awards-worthy "Underwater Dreams" is by turns rousing and heartbreaking, and organically touches on important social issues" – Michael Ordoña, The San Francisco Chronicle. Click here to read the review.
"Those scraggly Latino kids on the corner you might think are thugs could be the next Steve Jobs or Mark Zuckerberg if given half a chance. To understand why that's more than a platitude, check out Underwater Dreams, a seemingly modest human interest film that may be the most politically significant documentary since Waiting for Superman… It should also be seen in every high school in the country, where it will inspire thousands of kids, and in Congress, where it might just jolt a few politicians out of their stupor and help them see young people for who they are, and who they can be. - Jonathan Alter, The Daily Beast. Click here to read the article.
Catch Mary Mazzio and Oscar Vazquez on The Colbert Report on Wednesday July 23 on Comedy Central
"The year is just half over, but already a contender for best documentary of 2014 is looming with Mary Mazzio's Underwater Dreams. What starts out as a high-school competition study—compelling enough on its own, as so many of these like-themed films are—pulls a breathtaking fast one in its second half, expanding its basic inspirational theme to embrace an even larger message, with an organic efficacy that is nothing short of astonishing. - David Noh, Film Journal. Click here to read the review.
"Very inspirational… it's a wonderful story and shows you what these kids are capable of… At first I thought this was two separate documentaries but they way she wove it together works… it's so resonant, so timely. – Claudia Puig, USA Today's film critic on KPCC's Air Talk with Larry Mantle. Also on KPCC, film critic, Wade Major, who said "I think it's outstanding." – Click here to listen.
"Modest yet meaningful, "Underwater Dreams" has a political point of view, shining light on underground Americans who deserve recognition. One of the aftermath scenes has some Carl Hayden graduates, now activists, stopping a bus filled with immigrants who are being returned to Mexico; a contrasting image from this month, of anti-immigration protesters stopping a bus of new arrivals in Murrieta, Calif., starkly reinforces this film's contribution to a continuing dialogue." David Dewitt, The New York Times. Click here to read the review.
"Moving and insightful… The two teams reunite toward the end of the movie in a spirited gathering held earlier this year at MIT at which the onetime competitors again build and race underwater robots. The differing paths taken over the past decade by the Carl T. Hayden Community High School grads and the MIT alumni prove a telling snapshot of our nation's class and cultural divide. Comments by student advisors, parents of the main Carl Hayden alumni, the high school's more recent robotics students and immigration activists, along with narration by actor Michael Peña ("Cesar Chavez") rounds out this moving and insightful piece. – Gary Goldstein, Los Angeles Times. Click here to read the review.
"This is the most important and moving film I have seen in years." – Jonathan Alter, NBC News correspondent – at Aspen Ideas Festival.
See interview on Morning Joe with Mika Brzezinski and Mary Mazzio.
"This film is awesome. I defy anyone to watch it and not have their minds changed…. The answer is films like yours…" – Pete Dominick, StandUPPeteDominick, XM Sirius Radio
"Film Follows Dream of 4 Young US Hispanics" – Luis Alonso Lugo, AP. Click here to read the article.
BBC World Update
NPR News – Tell Me More with Jacki Lyden.
NPR's Here and Now with Steve Goldstein in Phoenix AZ.
"Captivating and inspirational" – James McDonald, RedCarpetCrash.com. Click here to read the review.
"It's rare to find anything that's embraced by both the right and the left. Especially anything about immigration. But that's exactly the case with the new documentary "Underwater Dreams." It got a run on left-leaning MSNBC Sunday and before that it was screened at the right-leaning U.S. Chamber of Commerce office in San Francisco. – Joe Garoflio, San Francisco Chronicle. Click here to read the review.
"Underwater Dreams Review: A Triumph for for America's Greatest Underdogs. (Four star review.) – Christopher Campbell, NonFics. Click here to read the article.
"You didn't find two needles in the haystack," Kamen said. "You found a stack of needles. They are all sharp. All they needed was a little guidance, a little support. " Let's hope the release of "Underwater Dreams" leads to more schools uncovering more of these needles. – John Bare, CNN.com. Click here to read the article.
Mazzio has created a passionate, gripping and at times heartbreaking tale of highs and lows… Impressively keeping her focus even when Underwater veers away from the narrative of the competition to channel the difference a decade can make, Mazzio works in humanistic advocacy while always steering it back to the students of the school as opposed to taking the film in an overly political direction… While Dreams begins with a simple hook to reel us in, it definitely stimulates thought on a deeper level by the end. A great companion to other similarly themed next-generation competition and education-centric documentaries including Mad Hot Ballroom and Spellbound, Underwater is a cautiously optimistic portrait sure to inspire and influence as well as grow into a greater word-of-mouth hit as more people track it down. - Jen Johans, Film Intuition. Click here to read the review.
"Inspirational teacher – chronicled in new documentary – helps poor Hispanic students bridge achievement gap, conquer MIT " – Terry Green Sterling, Al-Jazeera. Click here to read the article.
CNN's Berman and Michaela.
"Mary Mazzio's brief but touching pic about five Latin high school boys from an impoverished, landlocked town in Arizona who enter a NASA/Navy sponsored underwater robotics competition, taking on titans like MIT with Exxon sponsorship behind them, percolates with keen social insight that otherwise might have gotten lost in a rote, can-do underdog story. The two high school teachers who sought the opportunity decided to compete on the collegiate level because the disappointment of finishing far back would be mollified by the daunting impressiveness of the field. Had this been a Hollywood "based on" adaptation or a Hallmark fantasy, the Davey vs. Goliath drama would seem trumped up, maudlin and implausible, but as a straight-up documentary with talking heads from both sides of the engineering contest (the Arizona five and the vast MIT squad), it's head-on, unadulterated and far more affecting than anything that could have been hatched in a studio lab" – Tom Meek, Paste Magazine. Click here to read the review.
"Filmmaker Mary Mazzio's documentary "Underwater Dreams" is wildly inspirational. Four Arizona high school students, the children of impoverished Mexican migrant workers, enter a high-profile underwater robotics contest, show extraordinary ingenuity in building an underwater robot with their extremely limited resources and compete against MIT and other engineering powerhouses; and take top honors! They're delightful kids, and their story – as well as their robot – is a winner. Michael Pena narrates." – Jennifer Merin, Film Critic, WeNews. Click here to read the review.
"It's surprisingly emotional to see men in their 20s admit that, until high school, they had no idea they could make something of themselves in the world, that in a world of negative stereotypes and messages, their robotics instructors stand out as rare beacons of hope and encouragement." (A four star review.) – Common Sense Media. Click here for the review.
"Underwater Dreams makes the need for STEM education more clear…"- Lauren Landry, Boston Globe – Boston Innovation. Click here for the article.
"As David and Goliath stories go, it's a good one…" – Mark Shanahan and Meredith Goldstein, Boston Globe. Click here for the article.
"Really beautifully crafted for the most part. I especially enjoyed the un-stuffiness of the interviews, music, and narration coupled with high quality production. The film captures powerful, emotional moments, and moves with a wonderful pace. It has a warmth of heart to it… A-. Ross Anthony, Hollywood Report Card. Click here to read the review.
" I recommend seeing this documentary…. The teachers and advisors who brought it all together and gave the competitors confidence and praise they never got at home or anywhere else is a reminder to each of us that it's important to inspire and support our young people as much as we can… With that in mind, to the makers of Underwater Dreams and everyone involved, I say, "You did a good job." - Mark Buckingham, Cinema Sentries. Click here to read the review.
"it is a powerful, inspirational film which demonstrates there is a vast untapped reservoir of human potential in this country." – Robert Roten, Laramie Movie Scope. Click here to read the review.
NPR Phoenix – Steve Goldstein
The Arizona Republic – Penny Walker
MSNBC post-broadcast Twitter recap
Mary Mazzio's MSNBC Op Ed
José Díaz-Balart discusses Underwater Dreams on MSNBC with Lorenzo Santillan, Luis Aranda, and Cristian Arcega.
Telemundo – Al Rojo Vivo
Telemundo – Madelyn Rodriguez
Telemundo – Suelta La Sopa
For more information on the film or to host a screening event, please email us at office@50eggs.com.