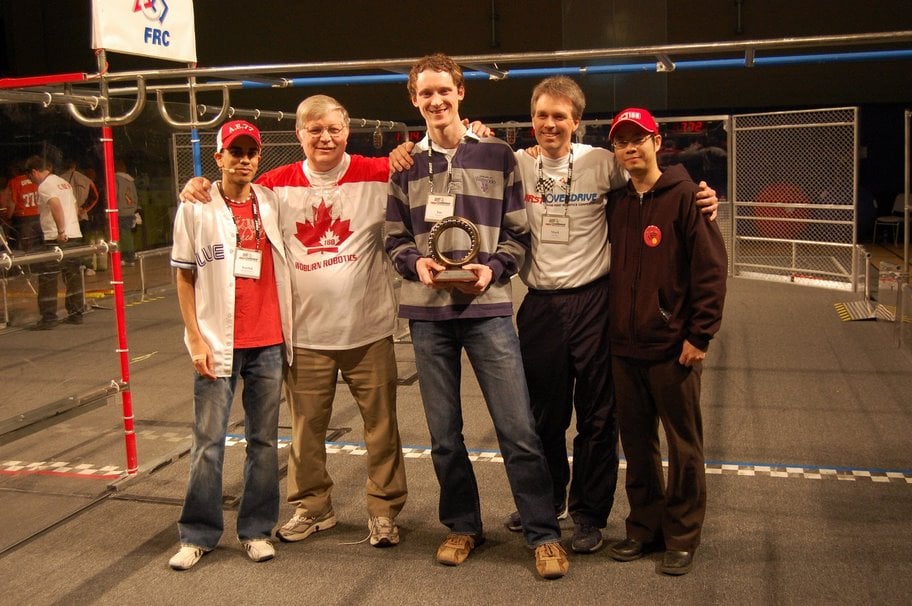 I know there has been a lot of congratulations handed out to Ian in the Waterloo Regional thread, but I found this amongst Pat Fairbanks' photographs, and felt it had to find its way on to CD.
First of all, to echo the many before me: congratulations Ian! Despite not knowing you for as long as many others, what I have seen and learned in my experiences with and around you make it easy to say that there could be no better candidate for this award than yourself.
Secondly, this photograph is simply epic. Five years, five WFFA winners, all from the original Canadian team in 1998.
2004: Roland Anderson, Team 188 Mentor
2005: Karthik Kanagasabapathy, Team 188 Alumnus, Team 1114 Mentor
2006: Shawn Lim, Team 188 Alumnus and Mentor
2007: Mark Breadner, Team 188 Mentor, also the reason why there is FIRST in Canada
2008: Ian Mackenzie, Team 188 Alumnus, Team 1114 Mentor
You have done both Team 188 and the FIRST community proud. Congratulations to all of you!