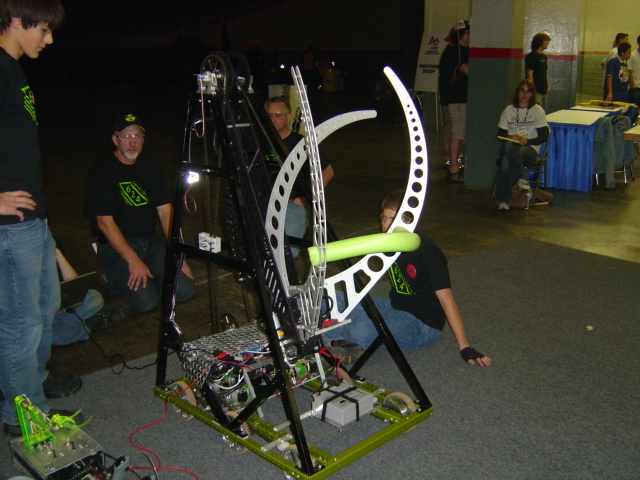 The Claw Bot
CRyptonite 2008
glad to see that those engineers from LuthorCorp got to head the claw design . .
no but really GORGEOUS claw.
Looks Great Kyle !
Did you guys anodize or paint it green ? Do you have an youtube clips of the robot in action ?
Does anyone know if AZ regional will be uploaded on TBA ?
Well, we had a rough start in Arizona and had alot of issues with programing the mini arm controler. But we finaly got everything worked out on our last day and are ready to goes for Lone Star. (Sry guys in AZ for the dissapointment). While the arm was down for AZ, we where able to get some heards and about 6 laps a match with our 3 speed transmission and 2 lines in auto. (we have added more Ir controls for 3 lines but did not try them.)
The base frame was anodized lime green and the arm was anodized black and claws have a clear coat. the mast frame was powder coated by one of out mentors.
How secure is that battery
Well it wasnt very secure to start off with but we have improved it.