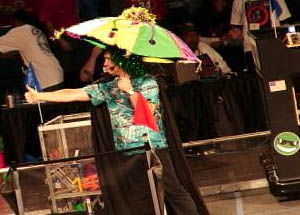 Here is Dave announcing an alliance with teams from Louisiana.
That's just too cool.
His hat reminds me of the Harmony Hurricane hats…
I'll check with Barry and see if that could be in Dave's future…
That is a fantastic outfit he has. And how well he accessorizes!
I think Dave should get with Barry cause his hat totally pwns Barry's tiny hat =]
I am THE LAVERY
Protector of Truth Justice and The FIRST way!!!
wooshes cape
HEY! the hawaiian shirts ar back!
Heidi, that is pretty good Photoshopping!
It almost looks real.
I mean, who would get dress… up… like…… th……
Wait…… :eek:
OMG!


The ultimate odd couple paring of Dave and Sir Charles.
So… the Peachtree regional was outside during a rainstorm?
I say that because I can't imagine needing an umbrella INSIDE…
Color on my computer must be messed up. Dave doesn't have green hair… does he?
Dave did it all during the Peachtree. He is a class act and did a great job introducing each team. He took time to take pictures with each award winning team at the end of the event. We are glad he brought his team 116 down to be with us at the Peachtree Regional. They are great competitors and good people.
He wore or waved just about anything the teams gave him. In his defense, the umbrella was used to help introduce a team from New Orleans.

Dave
Nope, it was gray on Saturday.
Although the umbrella indoors thing might explain that rough quarterfinal for 116… :eek:
(For those that weren't there, 116 lost the tread on one of their IFI wheels in their second quarterfinal match, which they won. They called a time-out to fix the wheel, but forgot to reconnect the wires going to the drive motors before going back out to the field. It hurt, especially since they did pretty well in the qualification rounds.)
Either way, the whole 116 crew (well, ignoring when Dave gets into hint-giving mode) is great. I hope to cross paths with them again.
Yeah, Dave was awsome about wearing our Green Smily Guy Cape, and the Green hair. The guy is even cooler in person!
And which one of us is Oscar and who is Felix?

They both done a AWESOME job!!!
Thanks for a great regional GUYS

Whoa. I'm green with envy.
You all act like this is the first time Dave Lavery has worn an umbrella hat…