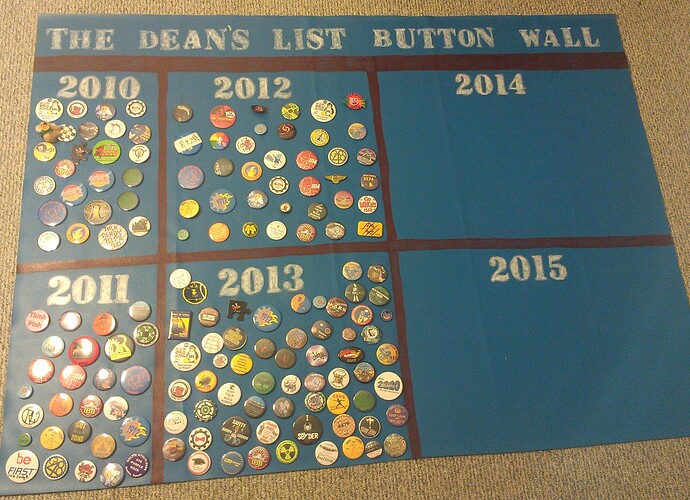 The new (and improved) Dean's List Button Wall, which honors each Dean's List Finalist with their team button. This was a project brainstormed by some Dean's List Finalist about a month before championship and created by myself just in time for CMP. But in FIRST, arts and crafts is an iterative process, so here is version 2.2. Later this weekend this will be shipped to FIRST HQ and it will be displayed at upcoming CMPs. The wall leaves room for the buttons of 2014 and 2015 finalists. Currently, we only have about 33% of our finalists represented. But since I do have the listing of all Finalists (mostly), here are some fun facts:
Team(s) with 3 Finalists: 116, 228, 433, 503, 548, 585, 694, 862, 1304, 1334 1541, 1718, 1732, 1902, 2437, 2834, 2846.
Team(s) with 4 Finalists: 704, 1114, 1511, 1519, 1718, 1986.
Team(s) with 5 Finalists: 1912.
(Mosting interesting (from a database standpoint) goes to 704. Matthew Ricks was a finalist in 2010, 2011 and 2012 and then was made a Dean's List Winner in 2012, presumably so other people in Texas could have a chance. In 2013, one of his team mates was finalist and became a 2013 Winner, making 704 the only team (so far) to have two Dean's List Winners. )
For any question or suggestions about the Dean's List Button Wall, please PM myself or comment below.